Site Contents
Site last updated on Friday 17th October 2014.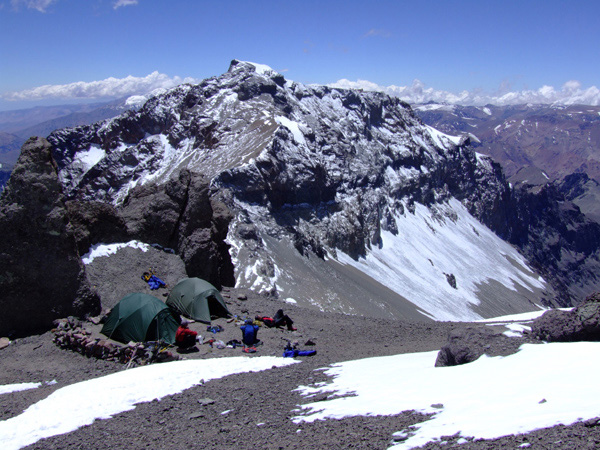 Aconcagua is the highest peak in South America, at 6959m. We are organising expeditions to Aconcagua in December 2014 and January/February 2015. These will climb by the quieter eastern side joining the normal route high on the mountain. From the Plaza Argentina base camp at 4200m the eastern route on Aconcagua involves a couple of hard days up over scree to a high camp at the foot of the Polish Glacier at 5900m. From here the normal route is joined, leading over scree and snowfields to the summit. This ascent is suitable for anyone with several years mountain walking experience and previous experience of extended wilderness camping. Winter skills, such as the use of an ice-axe and crampons are not normally necessary. John Biggar and ANDES have run over twenty-five successful Aconcagua trips since 1995. In the past many of these have sold out, so book soon for these ones if you want to be sure of a place. Pictured above high camp on Aconcagua at 5900m in February 2009.
---
Information about the climbing and trekking guidebooks to the Andes which I have authored. Translated into French, Spanish & Polish, and with a Czech edition in preparation. You can purchase the English & Spanish editions on this website.
I can provide or organise logistical support for many types of mountain expeditions, in many parts of the Andes. In the past ANDES have organised treks, ski holidays, expeditions and guided climbing for private individuals, groups of friends, schools, clubs and military groups
Scheduled Courses & Expeditions
Every year I schedule a small number of unique and interesting expeditions to the Andes and Latin America. Many of these are First Ascents and other exploratory expeditions. I also organise shorter courses and breaks nearer to home in Europe. I lead the vast majority of these myself, as many as 90% most years, with one or two selected trips sub-contracted to other qualified and experienced leaders.
Climbing & Ski Mountaineering Instruction & Guiding
In addition to the scheduled expeditions and courses I organise, which are mainly in the Andes, I can lead treks, expeditions and straightforward ski-touring trips in many diverse parts of the world.
I also regularly instruct winter climbing, rock climbing and ski mountaineering in all parts of Scotland. In the past I have run winter skills weekends, week long winter courses and guided ascents of classic rock climbs for individuals, Mountain Rescue Teams and clubs.
---
Why book with Andes and John Biggar?
Past Successes.

Many of the mountaineering expeditions to the Andes that I organise offer those critical few extra days and low guide to client ratios necessary for success on a big mountain.

We're Good.

I am highly recommended by past customers. Have a look at the Customer Satisfaction page for further details. Not surprisingly I have very high repeat booking rates and referral booking rates and run a lot of private itineraries. That's why I haven't advertised much for more than ten years.

We're Specialists.

I personally have MORE experience of operating mountaineering, skiing and trekking expeditions to South America than anyone else in the world. I now have more than twenty years experience of climbing and skiing in the Andes. I have climbed over 250 of the 5000m+ summits and skiied nearly 100 summits in Patagonia. I also have many satisfied customers.

Small Groups.

My maximum group size on all regular courses and expeditions is four. Smaller groups are more flexible and much less intrusive in remote mountain areas. Have a look at the 'Our Style' page for further details.
---
Guidebooks, Map & Photo Libraries
Andes Guidebooks Details of the guidebooks we author and publish - 'The Andes - A Guide for Climbers' and 'The Andes - A Trekking Guide' and their French, Spanish and Polish editions. The English edition of "A Guide for Climbers" was last updated in 2005. French and Spanish editions of this book were published in 2007, a Polish edition in 2012 and a Czech edition is due for 2013.
Guidebook, Photo and Map Library Information about the extensive guidebook, photo and map library I maintain at the office in Castle Douglas.
| | | | | |
| --- | --- | --- | --- | --- |
| | | | | |
---
Contact Details
For further details of the services I can offer, more information on the mountains of South America, or to purchase my guidebooks please contact me at
or by phone 01556 503929 from the UK, + 44 1556 503929 from elsewhere in the world.
You are also welcome to write or visit at
Andes, 37a St. Andrew Street, Castle Douglas, Kirkcudbrightshire, DG7 1EN, SCOTLAND
The office is located in the middle of the town of Castle Douglas, which lies in Galloway in southern Scotland about half-way between the towns of Kirkcudbright and Dumfries.
We changed ISP in June 2014 and are no longer using the andes@btinternet.com address. If you have this address stored for us on your computer, mobile or webmail then please delete it. Our other "main" addresses of john@andes.com, john@andes.org.uk and claire@andes.org.uk will continue to function as normal.
If you experience any problems with this website (even if it's just a missing picture or missing link) or with the e-mail address please let me know using the above numbers or the alternate email address.
This website, including all photos (unless otherwise credited), maps, lists, diagrams and text © 1997-2014 John Biggar t/a Andes. Unauthorised reproduction prohibited. If you wish to use any material from this site please contact me for permission first; permission will usually be granted for non-commercial use providing you give full credit and link directly back to this website.
---
Free Information Files & Photo Galleries on this Website