Guidebooks - Information & Purchases
With our Belgian partners Nevicata, Polish partners Sklep Podroznika and Czech partner Nakladatelstvi Junior, "ANDES" publish and sell unique guides to the Andes. These are described in more detail below. The "Buy Now" buttons take you to the PayPal payment page, with the correct postage included to any destination in the UK, Europe or Worldwide.

Please select the book you wish to buy and where in the world you want it sent to (UK, EU or Rest of the World). Then click on the button to be taken to the secure PayPal website to pay and process your order. PayPal is run by E-Bay and is a secure online way of paying for purchases with your debit or credit card or by using a Paypal account. For further information about PayPal please visit www.paypal.com You may want to read the Small Print about returns etc., at the bottom of this page before purchasing a book from us this way.
Please contact us if you are unsure how to use this system.
Please note that you do not need to register or have an a account with Paypal to pay this way.
Español : Aqui se puede comprar el libro "Los Andes - Una Guia Para Escaladores" directamente del autor. Si tienes algunas preguntas sobre la sistema paypal por favor enviarme un email
The Andes - A Guide for Climbers

3rd English edition, 2005.

UK orders only - £ 19.95 includes postage
European orders only - € 34.00

includes airmail postage

USA & all other worldwide orders - US$ 49.00 includes airmail postage.

---

Los Andes - Una Guia Para Escaladores

1ra edicion Español, 2007

España y Europa - € 34.00 incluyendo correo aereo desde Escocia.

E.E.U.U. y America del Sur - US$ 49.00 incluyendo correo aereo desde Escocia.
THE ANDES - A TREKKING GUIDE
Please note that "The Andes - A Trekking Guide", ISBN 0-9536087 is now out of print.... they've all gone!
FRENCH EDITION
The second French edition was published as Les Andes - Guide d'Alpinisme , 2eme edition Francais, 2007, contact Nevicata for further details.
POLISH EDITION
A Polish edition ANDY was published in 2012 by Sklep Podroznika. Please contact them for further details.
Wydanie Polski 2012 ISBN 978-83-7136-071-8
CZECH EDITION
Czech Edition is in preparation as of 2014, by Czech publishers Nakladatelstvi Junior s.r.o. (2014)
Commander des exemplaires de ces guides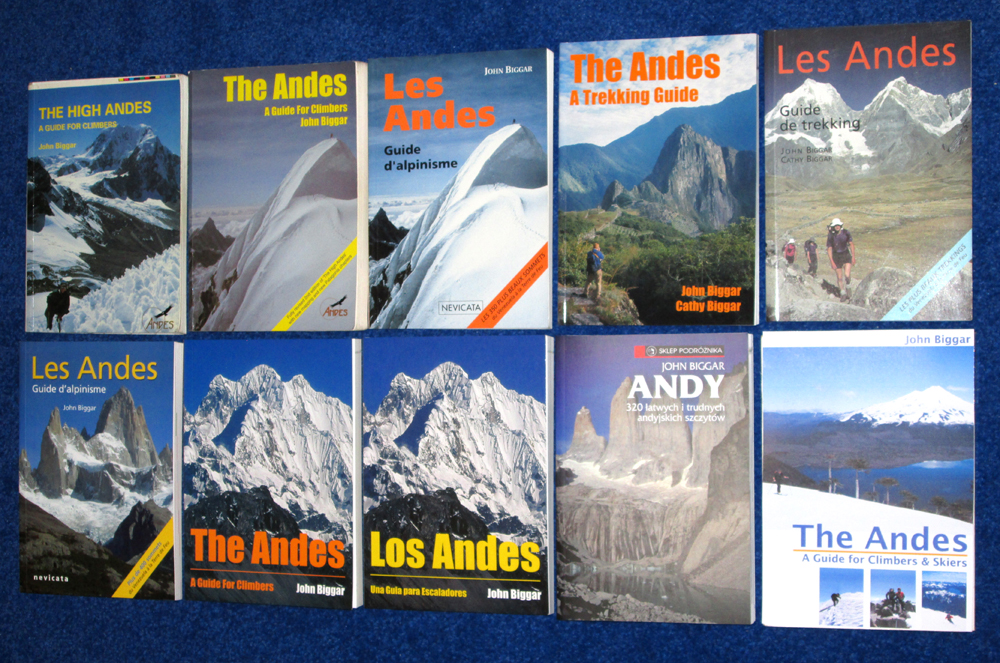 ---
Errata
I have an errata page highlighting the few typo's and other errors discovered in the most recent editions of these guidebooks since publication.
Ahora tambien tengo una pagina de errores en Español / Castellano para la edicion de 2007.
---
The Andes - A Guide for Climbers
"ANDES" are the publishers of the only comprehensive climbing guidebook to the Andes- 'The Andes' by John Biggar.

ISBN 0-9536087-2-7

" ''This is essential reading for anyone requiring up-to-date and well-researched information on all areas of the Andes, from Venezuela to Tierra del Fuego,....''

as reviewed in Climb magazine, June 2006.
'The Andes - A Guide for Climbers' is the only comprehensive guidebook to the peaks of the Andes. It is the only guidebook to cover all one hundred and two 6000m peaks of South America. There is also information on many 5000m peaks plus details of many of the most prominent Patagonian peaks. T
Les Andes - Guide D'Alpinisme
Les grandes voies de montagne et les sommets de trekking.

Deuxieme edition - Novembre 2007

Plus de 350 sommets des andes et de Patagonia. Des milliers d'informations uniques.83 cartes, 120 croquis et de nombreuses photos couleur. Vous pouvez commander des exemplaires de ce guide directement a l'adresse si vous ne trouvez pas chez votre libraire.

''.... En bref, l'ouvrage est <incontournable> pour qui veut aller humer l'air des altitudes andines.'' Les Alpes, Feb 2001''.... Enfin, vous trouverez aussi plein d'informations pratiques sur le materiel, les transports, les conditions, etc.'' Montagnes, Jan 2001
Los Andes - Una Guia para Escaladores
Los Andes - Una Guía para Escaladores by John Biggar. Traducido desde la 3ra edicin Ingles por Pere Vilarasau, Cecilia Vazquez y John Biggar.

1ra edición Español, Julio 2007

ISBN 978-0-9536087-3-7

La primera edicion Español (tercera edicion Ingles) de esta unica guia completa de los picos de los Andes. Los 102 picos de 6000m descritos, mas de 210 picos y mas bajos descritos. 350 fotos, incluyendo mas de 160 diagramas de rutas y 84 mapas esquematicos en color.
"..sucintas descripciones de las rutas generalmente normals, ... y unos planos de aproximaciones y accesos elaborados con mas detalle dan forma a una guia para una primera visita a los Andes"
Revista de la primera edicion Ingles, Desnivel, Enero 1997.
ANDY
ISBN 978-83-7136-071-8

320 latwych i trudnych andyjskich szczytow

Wydanie Polski 2012
---
Direct Book Sales - The Small Print.
1. You are purchasing your guidebook directly from the author and publisher John Biggar t/a ANDES, 37a St Andrew Street, Castle Douglas, Kirkcudbrightshire, DG7 1EN, Scotland. Telephone 00 44 1556 503929. John Biggar is the sole proprietor of ANDES.
2. We'll accept returns if your book is damaged or faulty in some way, or has been damaged in the post. In this case we will replace the book and refund your return postage costs. Please phone or email first to arrange a return.
3. If you simply change your mind about owning the guidebook you have purchased from us within 7 days of receiving it we will refund your money (when you return the book to us!!). Return postage in this case is at your expense. Please phone or email us first to arrange a return.
4.We won't send you unsolicited emails, nor pass on your address or email address to anyone else. We do not use cookies.
5. Our VAT number is GB 751 2817 38
---
For the benefit of Google and other search engines here are some really bad ways to spell my name -- Jon Biggar, John Bigger, Jon Bigar.