Who we are
This page tells you more about ANDES. Who runs the business and where our office is located.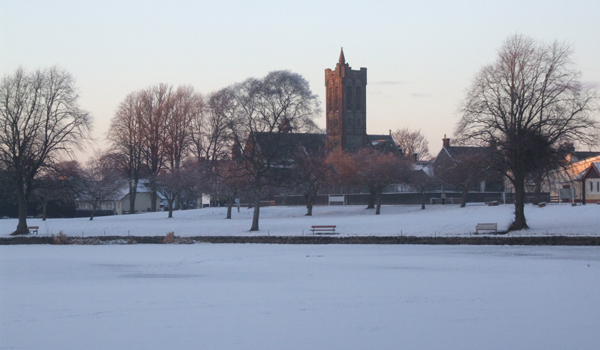 Castle Douglas from Carlingwark Loch. The ANDES office and library is just behind the old church (which is now the Lochside Theatre).
---
ANDES is a genuinely small business run from Castle Douglas in Galloway (southwest Scotland). The business is owned and operated by John Biggar, an active climber, skier and snowboarder. John is a fully qualified Mountaineering Instructor (MIC) belonging to the AMI and a trainee ski instructor with BASI. He is the author of the only comprehensive climbing guidebook to the Andes. This book was first published in 1996, with the third English edition published in 2005. The second French and first Spanish editions were published in 2007, a Polish edition in February 2012 and a Czech edition due for late 2013.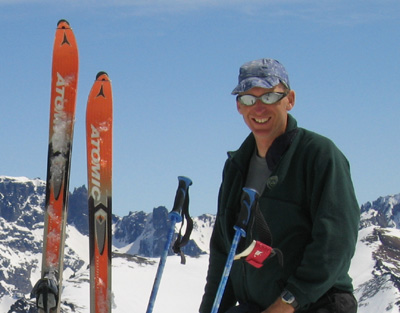 John Biggar, MIC
I have been operating specialist treks and climbing expeditions to South America for eighteen years now and have climbed over 200 of the 5000m and 6000m peaks in the Andes. In that time I have also personally been to every famous peak or trek and have done pretty much all of the sightseeing. I have completed a large number of research trips and led unusual itineraries to some interesting and (as yet) undiscovered places. Expeditions run by myself under the ANDES brand have made first British ascents of three of the ten highest Andean peaks (Bonete, Pissis and Cazadero) and first ever ascents of over ten 6000m+ Andean peaks. It is not really boasting to say that I know the Andes, as a whole, better than anyone else in the world. I can offer impartial advice, whether you are going trekking, climbing, skiing or just sightseeing. In my spare time I rock and ice-climb, ski-mountaineer and snowboard and I have opened over 100 new rock and ice routes in my local Galloway Hills. For more details of these routes and climbing in Galloway in general see www.johnbiggar.com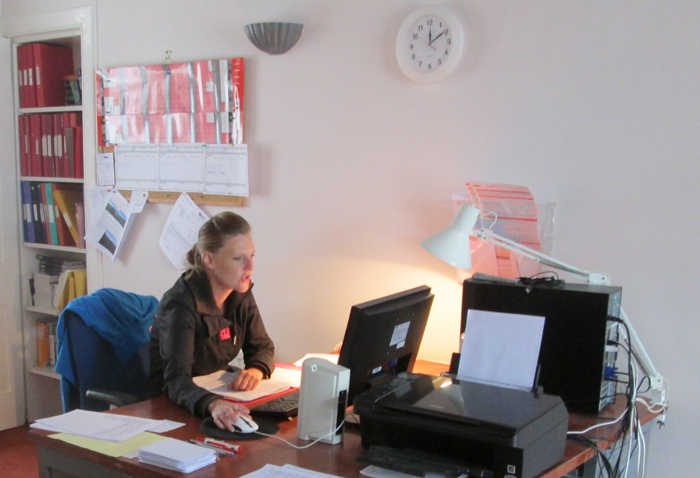 Claire Evans helps out in the office several times a week, when she has time off from chasing round the house after two young kids and Jack the Jack Russell.
---
Guides and Expedition Leaders
Some of the guides and expedition leaders who I work with out in the Andes are listed below.
Dante Alegria

Damian Aurelio

Linda Biggar

David Roberts

Martin Akhurst

Pere Vilarasau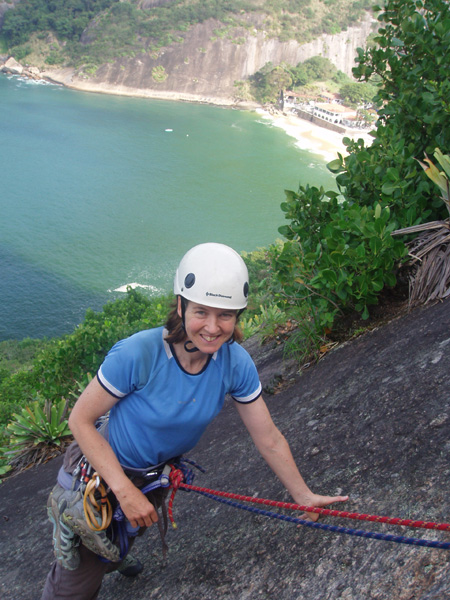 Linda Biggar climbing in Rio de Janeiro.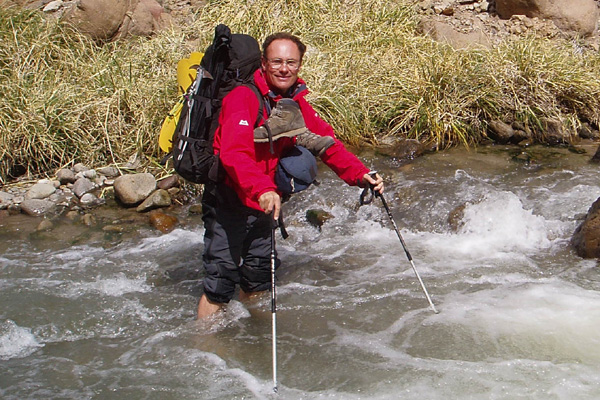 David Roberts, a BASI ski instructor who has lead some of our ski courses, skiing on Volcan Domuyo in Patagonia (that's what the sticks are for!)
---
ANDES courses and expeditions are mostly lead by myself. I speak good or fluent Spanish and have huge experience of travel in the mountains of South America. A few other mountaineering expeditions are led by competent and experienced mountaineers who are either qualified as members of the British Mountain Guides (BMG), a member organisation of the International Federation of Mountain Guides Associations (IFMGA) or the British qualified Association of Mountaineering Instructors (AMI). Logistics only arrangements, whether guided or un-guided are usually made through my network of regular contacts and guides out in South America.
---
Our Office
Our office is located in the centre of Castle Douglas, a quiet wee town in Galloway, in the wet and windy south west corner of Scotland. Personal callers are very welcome, though it is much better to phone (01556 503929) or email first to be sure I can be around to meet you.
Click here to view our location on Bing.
To reach Castle Douglas (CD) follow the M6 north from England turning onto the A75 towards Dumfries, or follow the M74 south from Central Scotland, turning onto the A701 at Beattock, to reach Dumfries.
From Dumfries go round the bypass and follow the A75 west, signposted "Stranraer", for 16 miles to reach CD. Turn left off the A75 at the roundabout as you reach the town. Once in the 30mph zone go straight across at the mini-roundabout and past Tesco to reach a really big roundabout with big trees on it. Take the second exit here, signposted Auchencairn. This is Queen Street. About half way down Queen Street turn left opposite the Kings Arms Hotel (currently painted white with black window surrounds). You are now in St. Andrew Street. We're just on the left side of this street, 20m from the junction, at number 37a.
Parking is easy and free.
We are 2 hours drive from Glasgow, Edinburgh and Newcastle, 3 hours from Manchester, 4-5 from Birmingham and Sheffield and a whopping 10 hours if you are coming all the way from Cornwall! If calling in on your way north (or south) it's only about 1½ hours extra driving time in total to get to and from CD from the M6-M74 motorway.
Our full legal business postal address is John Biggar T/A Andes, 37a St. Andrew Street, Castle Douglas, DG7 1EN, Scotland. Full phone and email contact details are here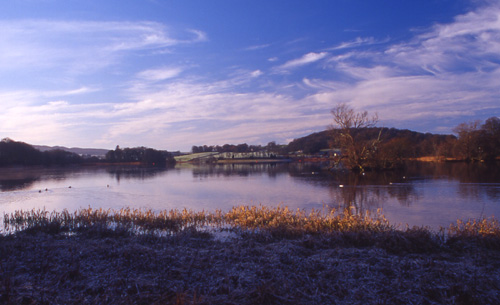 Carlingwark Loch, Castle Douglas, Kirkcudbrightshire.