Firsts and Innovations from ANDES
This page has details of some of ANDES previous successful 'First Ascents' expeditions and other innovative itineraries we have been running for over twenty years. See the Calendar page for details of all the unusual and interesting scheduled expeditions coming up in the next year or so.
We have another "First Ascents in Peru" expedition scheduled for June 2015, for details click here.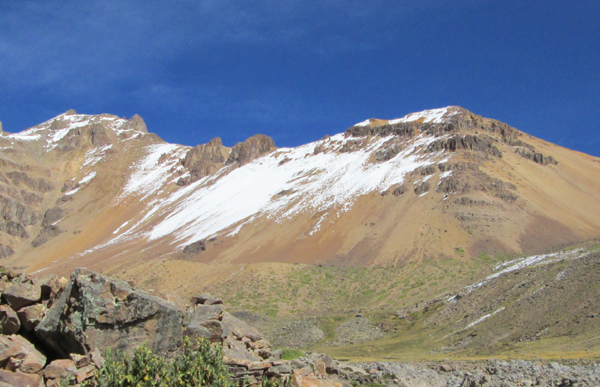 On our June 2013 trip to southern Peru our main objective on Hualca Hualca was the unclimbed NW ridge, pictured here from just below our high camp. This ridge leads to an unclimbed summit tower. On the ridge we got as far as the right-hand of the two central towers, topping out at 5520m.
Typical Peruvian climbing weather!!
---
Puna de Atacama First Ascents 2014 - After a run of four or five succesful first ascents trips to the Puna this one unfortunately hit bad weather and we had some "interesting" vehicle problems.
First Ascents in Peru 2013 - An expedition to three peaks in the area around Arequipa.
Puna de Atacama 2011 - First ascents of three 6000m peaks!!!
Puna de Atacama 2010 - First ascent of an unclimbed 6000m peak.!
Cordillera Blanca Climber 2008 An attempt on an unclimbed 5000m peak.
First Ascents in Peru 2007 New routes on peaks to 5800m.
Argentine Ski Mountaineer 2006 First ski descent of the highest peak in Patagonia.
First Ascents in Peru 2006 New routes on peaks in the Vilcanota.
Expeditions from Previous Years
---
Puna de Atacama First Ascents 2014
This was the trip that proved not every exploratory trip is going to go to plan. First up we got a 4x4 stuck in the mud while returning back along our own tracks down a riverbed.......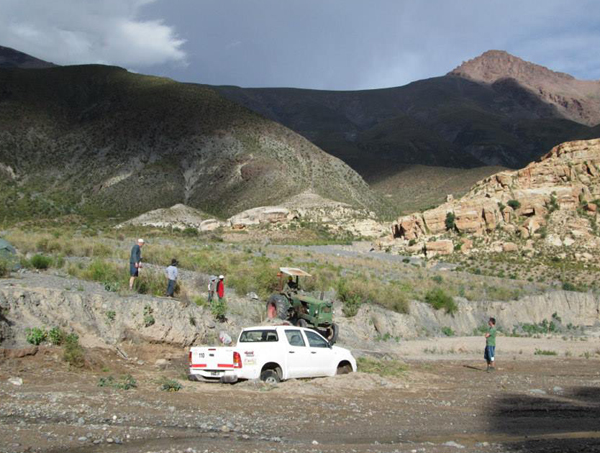 It took a lot of time and energy and fifteen men from the "illustrious municipality of Luracatao" to get us out of that one.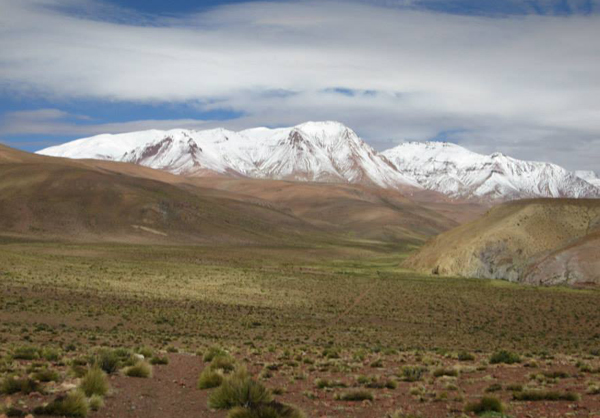 The next major problem was the weather turning . We'd had some thunderstorms the first week, but nothing major. On our way into our target peak (pictured above) the weather was generally excellent. But by the middle of the second week when we were at our high camp we got some serious bad weather. For two or three days we had only brief periods of dry weather, and some spectacular lightning strikes quite near the tents!

In the end we only got to about 5300m. There was just too much deep fresh snow and too short a weather window on both our summit days. Pictured above is Marcus approaching our high point. We had reached this around 8am after 600m of ascent and the weather was already going downhill fast. The route to the summit from here involved about 1½km of ridge above 5500m , so would not have been safe in the thunder!
See our December 2011 Puna First Ascents below for photos from a much more successful trip!
---
First Ascents in Peru 2013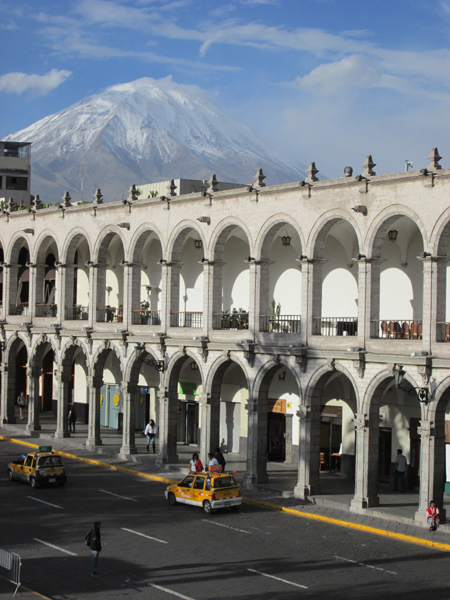 El Misti volcano from the main square in the city of Arequipa, Peru.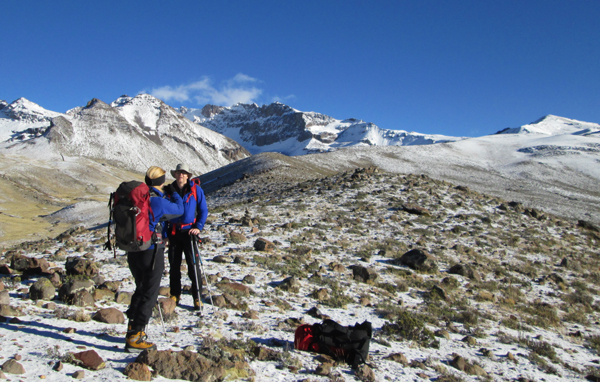 The steep south face of Mismi from above Coporaque. We had hoped to do a new route on this face, but unfortunately after a week of bad weather everything was swamped by knee or thigh deep powder snow!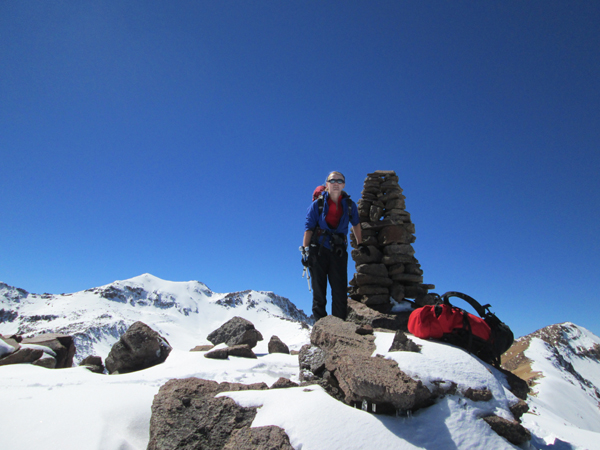 The main peak of Huarancante in the centre-left, as seen form the 5284m high west summit, also known as Nevado Chucura. We did this peak on our "rest day". Needless to say we were not the first up this peak!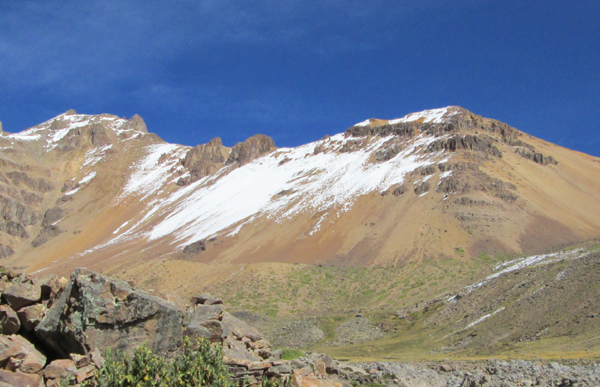 Our main objective on Hualca Hualca was the NW ridge, pictured her from just below our high camp. This ridge leads to an unclimbed summit tower. We got as far as the righthand of the two central towers, topping out at 5520m, but unfortunately there was no safe or sensible way off the back of this tower to the easier climbing ahead. The terrain proved much more complex than it looks in this photo
---
Puna de Atacama 2011
The December 2011 Puna de Atacama trip was extraordinarily successful, four out of five clients climbed their highest ever summit, and we made first ascents of three unclimbed 6000m+ peaks to the north of the Andean giant, Cerro Bonete.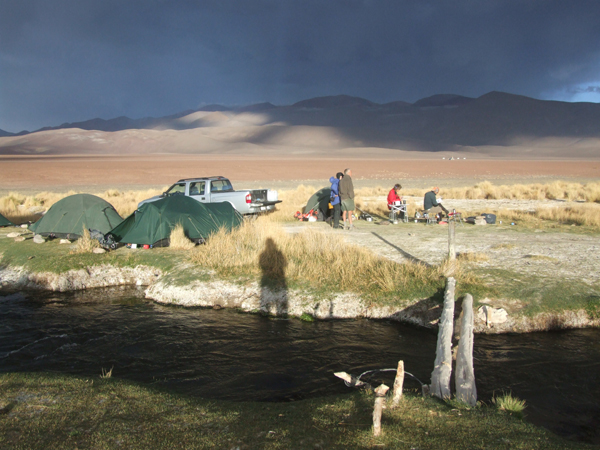 Acclimatisation camp at 3500m in the Valle de Chaschuil near Fiambala. We saw a Puma near here the next day.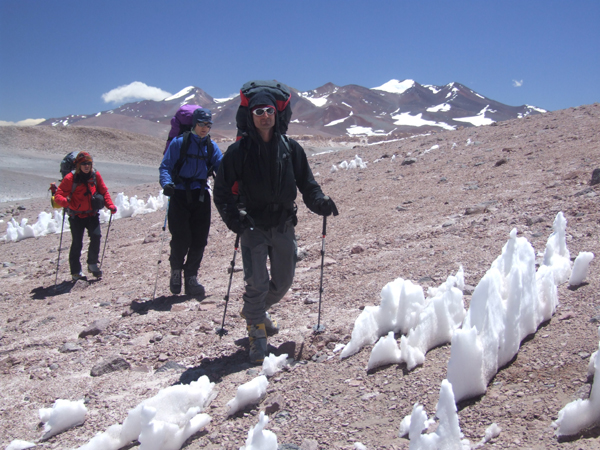 Marcus, Barry and Thom on the way to high camp beneath our unclimbed peaks. The peaks in the background are Veladero and Baboso.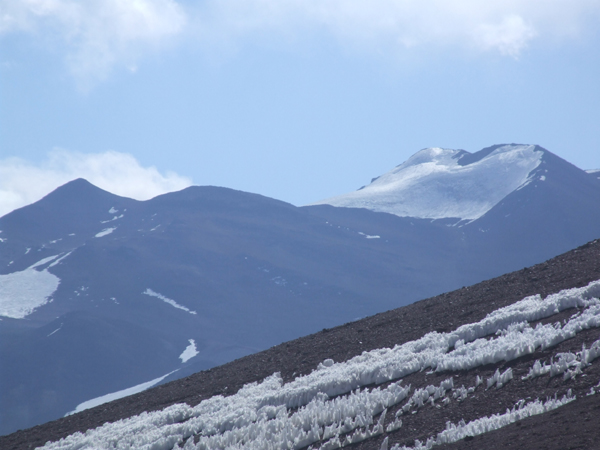 In 2000 an Andes group made the first recorded ascent of Baboso, the 6070m peak pictured on the right here. In December 2011 we climbed from the opposite side by the long NE ridge. We're already planning to go back to make the first ski descent..!
In total we climbed six 6000m peaks with our highest point being the top of Ojos del Salado at 6893m, the summit is pictured below - thanks to Thom Rankin for this photo. We have another "first ascents" expedition to the Puna scheduled for January 2014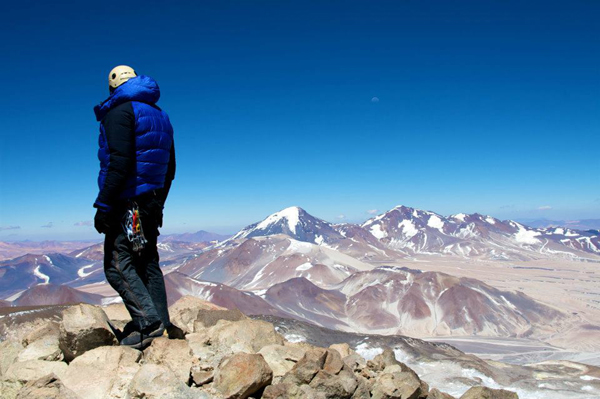 ---
Puna de Atacama 2010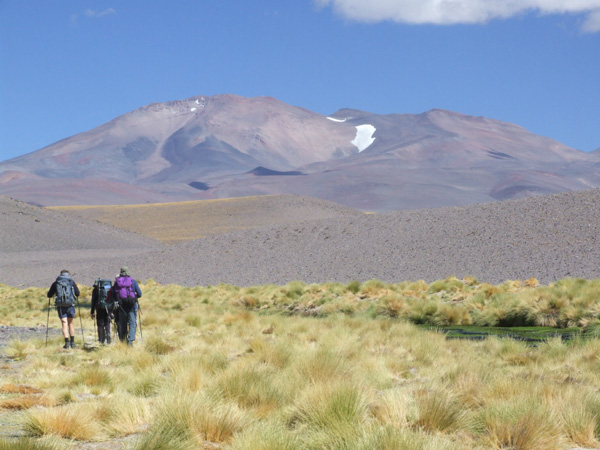 Volcan del Viento seen from Aguas Calientes - several clients later made an ascent of this 6028m peak in very different conditions. Hot sunny weather on the approach soon turned to snow and very cold camping conditions...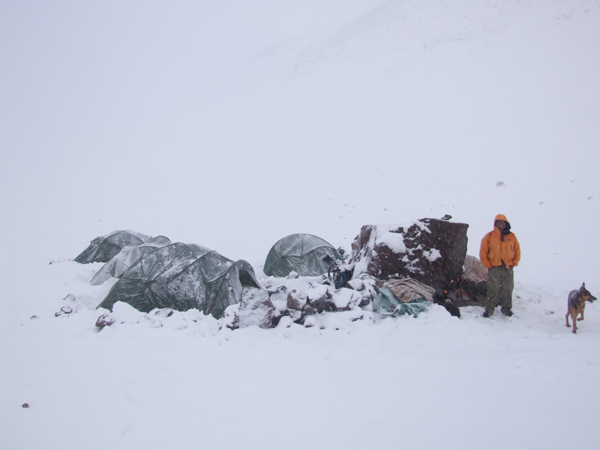 Although we were not able to climb Ojos del Salado, our main objective, the bad weather had us hunting around for other objectives and we eventually went off to the 6046m high peak lying northeast of Medusa, which turned out to be a (probably) unclimbed 6000m peak.! There is no real record of this peak in climbing literature or the internet and there were no signs on the summit of previous ascents - so it probably has just been overlooked all this time. Pictured below are Thom and Barry on the way there.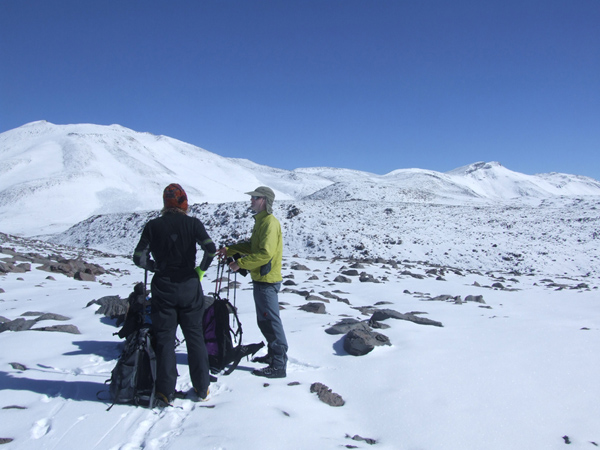 ---
Colombia Climber - February 2009
Our third and most successful expedition to Colombia reached two major summits in two separate mountain ranges, despite some terrible weather.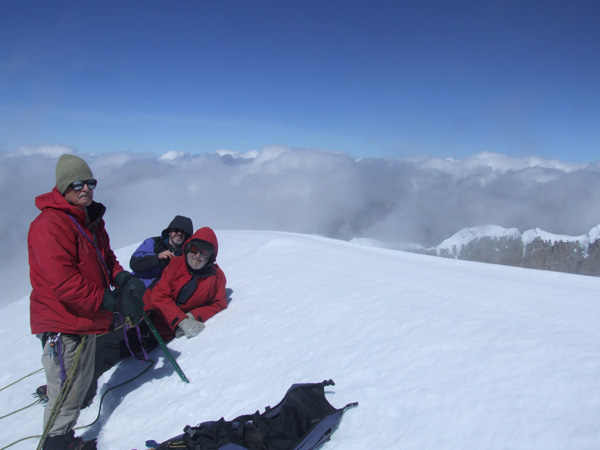 Three clients with a combined age of 195 on the summit of Ritacuba Blanco, Sierra Nevada del Cocuy, February 2009. You're never too old to do something adventurous.!

Panorama of the El Ruiz crater, February 2009.
---
Cordillera Blanca Climber 2008
Our 2008 trip to the Cordillera Blanca had focussed on an unclimbed summit, but unfortunately we weren't successful due to a combination of illness, bad weather and a longer and more difficult route than anticipated. We did however make an ascent of Pisco on the final glorious day in the mountains.!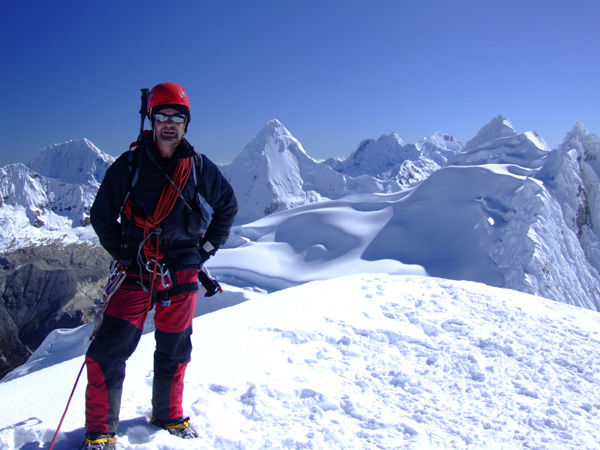 Pictured above is Rob on the summit of Pisco, looking towards Artesonraju and Pucajirca.
---
First Ascents in Peru 2007
A few pictures from our successful "First Ascents" trip to the Cordillera Vilcanota in August 2007, led by Spanish guide Pere Vilarasau, a serial handstander!.
On the summit, Pere does his usual handstand.!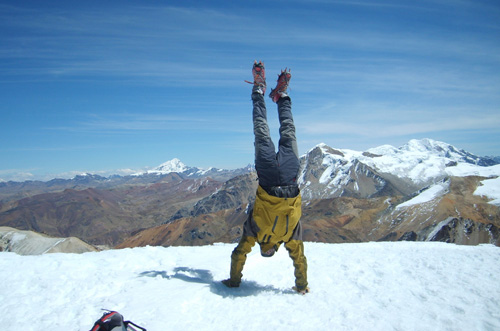 ---
Argentine Ski Mountaineer 2006
Our first ski mountaineering trip based in Argentina was successful on Volcan Domuyo. Indeed we may well have made the first ever ski descent of this extinct volcano, which at 4709m is often considered the highest peak in Patagonia!
Skiing from just below the summit on Volcan Domuyo.
---
First Ascents in Peru 2006
Our 2006 First Ascents trip took us back to the remotest parts of the Cordillera Vilcanota where we attempted eight 5000m+ peaks and summitted on six of them. We did several major new routes and several minor ones, some preliminary pictures are posted below.We already have a half full "First Ascents" trip for 2007......see here for details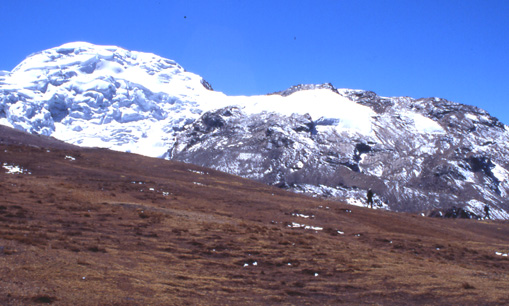 Pictured below is assistant leader Linda and seven times Andes client Barry nearing the summit of Alccachaya, 5780m on the south ridge (pictured above). This new route was on the highest peak we summited during the trip, though we may have climbed higher while attempting a new route on the remote and rarely climbed peak of Jatunaño Punta. Another Andes trip back in 1999 made the first ascent of Jatunaño from the south.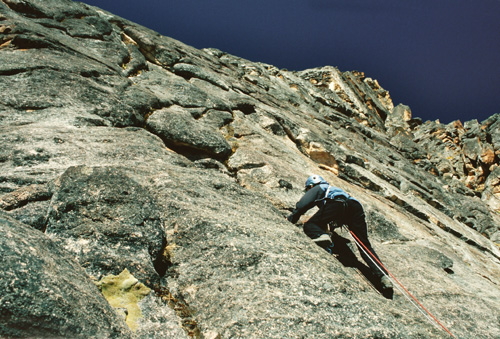 Pictured above is Linda on the first pitch of "Via de las Vizcachas" an excellent if easy c.150m rock route we did on the solid granite slabs of the north face of Quimsachata II, 5370m, in the southern Cordillera Vilcanota.
---
Thirteen More Years of Innovative Expeditions
2005 - Exploratory ski mountaineering trip to Patagonia, including an ascent of the rarely climbed San Lorenzo 3706m.
2004 - Expedition to Mercedario, the rarely climbed little sister of Aconcagua.
2003 - First ascents trip to the Cordillera Apolobamba in Peru made several first ascents and climbed new routes on established peaks.
2002 - First Ascents expedition to the Cordillera Apolobamba of Peru, where we made a number of first ascents despite poor weather.
2001 - Our first trip to Colombia. Despite the bad press it's a really friendly destination with great 5000m peaks.
2000 - Our 'First Ascents' trip to the Puna de Atacama of Argentina climbed four 6000m + peaks in total, made a First British Ascent of Bonete 6759m, the fourth highest peak in the Andes and a first ever ascent of Baboso 6070m
2000 - Our First trip onto the South Patagonian Ice-cap and ascent of Volcan Lautaro 3580m, a very remote and rarely climbed peak.
1999 - Our first ski-mountaineering expedition to Chile.
1999 - Our first 'First Ascents' trip to southern Peru was successful on a number of high peaks in the Cordillera Vilcanota.
1998 - Pioneering trip to the Sierra Nevada of Venezuela, where we climbed Pico Bolivar.
1997 - Another groundbreaking trip into the remote Puna de Atacama, this time to attempt Bonete. First ascent of p.6144 to the north of Bonete.
1996 - First British Ascent of Pissis 6795m, the third highest in the Andes. First ever ascent of Nacimiento del Jagüe.
1995 - Pioneering treks around the Huayhuash and Vilcanota including a number of peak ascents now in the 'standard' itineraries of all our competitors!
1994 - Our 'Monster Descent' bike trip, a pioneering descent form over 5800m to sea level by bike, way ahead of any other business!
1993 - First British Ascent of Llullaillaco 6739m, the seventh highest peak in the Andes
1993 - Expedition to Tupungato, a rarely climbed peak on the Chilean border.