Corona 5295m
Cerro Corona is a volcanic peak near the Laguna de Lejia above San Pedro de Atacama. It has the unusual distinction of having the highest point on the Tropic Of Capricorn on its southern ridge 1.25km south of the summit, and at a height of about 5160m at 23º26'12" and 67º44'19.5". However this point is not fixed as the tropic is moving northwards at about 15m per year.
Corona is a very easy climb from the shores of Laguna Lejia if you are acclimatised.
The highest point on the Equator is also in the Andes, on the peak of Cayambe in Ecuador.

Cerro Corona, Lascar and Aguas Calientes from the Laguna Lejia campsite.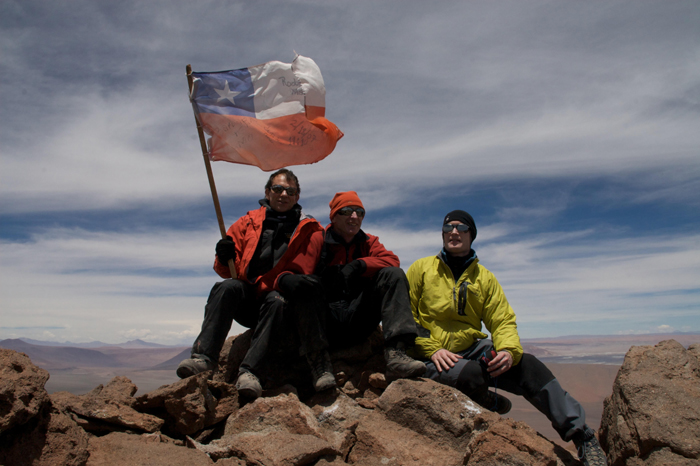 On the summit of the 5295m high peak of Cerro Corona in Chile. Picture courtesy of Thom Rankin.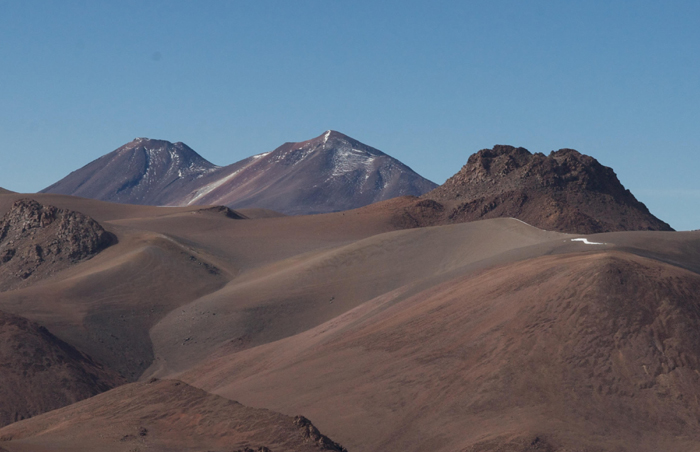 Corona summit cone (on the right) from Lascar volcano. The high point of the tropic is left of the summit on the shallow plateau. Picture courtesy of Thom Rankin.
We can organise guided ascents of this peak. For details of how to climb Lejia and neighbouring peaks please see our guidebooks, which are available in English, Spanish, Polish and French editions, direct from us or from all good bookshops and mountaineering shops.
Back to Alphabetical Peak List
---