Cayambe 5790m
Cayambe, an active volcano is the third highest peak in Ecuador. It has the unusual distinction of having the highest point on the Equator on its southern slopes 3km south of the summit and 1km SE of the refugio. At a height of about 4660m and 77º59'31"W.
The highest point on the Tropic of Capricorn is also in the Andes, on the peak of Corona in northern Chile.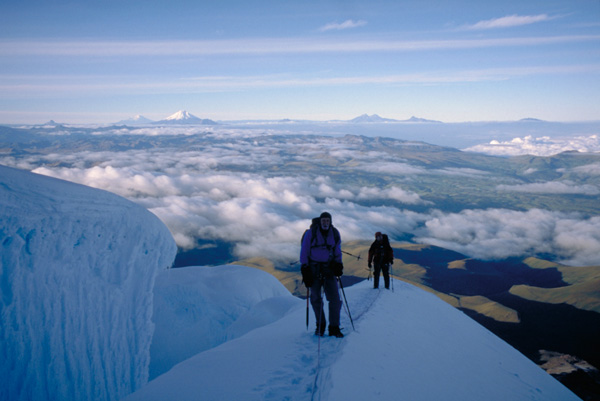 High on Cayambe, 2000 Andes expedition.
We have organised expeditions to Cayambe several times and can organise privately guided ascents of this peak.
For details of how to climb Cayambe and neighbouring peaks such as Fuya Fuya and Imbabura please see our guidebooks, which are available in English, Spanish, Polish and French editions, direct from us or from all good bookshops and mountaineering shops.
Back to Alphabetical Peak List
---