Dates
April to August
Duration
20 days
Grade
1A
"Andes" Leadership Fee (includes leaders expenses)

about £2000
Trekking in southern Peru with easy climbing options.
This expedition is not currently scheduled. However we have run it in previous years and can do so again on request.
PRICES & COSTS
All are per person.
"Andes" Leadership Fee (includes leaders expenses) -- about £2000
Estimated Airfares from the UK -- £1000
Estimated Trek & Travel Costs in Peru -- £1100
Estimated Accommodation & Meals -- £500
ESTIMATED TOTAL COST per person -- £4600
What's included in the price you pay ANDES and what's not.
---
General Information about our holidays
Please read our warning on altitude before booking this expedition to high altitudes.
Who runs 'Andes' and where we are based
General information about equipment, accommodation, flights, meals etc.
---
INTRODUCTION
This is a two part trekking holiday. Firstly we'll walk the Inca Trail to Machu Picchu, then we will do a remote trek in the Vilcanota mountains, with the option to climb one or two peaks on our way around the peak of Ausangate.
We start the trip with several days sightseeing in and around Cuzco, the ancient capital of the Inca Empire. This will give us a chance to see many of the ruins in the area. We will then walk the Inca Trail to the lost city of the Incas at Machu Picchu. This is a fascinating walk through the high jungle on ancient Inca pathways that will take us four days and finish with a day at the spectacular and world famous ruins of Machu Picchu.
Finally, the highlight of this trekking holiday will be the circuit trek of Ausangate in the Cordillera Vilcanota of southern Peru. This is a relatively hard and wild trek, crossing two passes of nearly 5100m. Plenty of llamas are guaranteed. The trek will take us a total of eight days, allowing time to explore some of the side valleys. On our way round the circuit we have two climbing options, when those who are interested will have the chance to climb two peaks including Huayruro Punco 5500m and Campa 5470m. Although some previous experience of hillwalking, trekking and camping in remote areas are an advantage, both the trek and the climbing options are suitable for anyone who is fit and adventurous.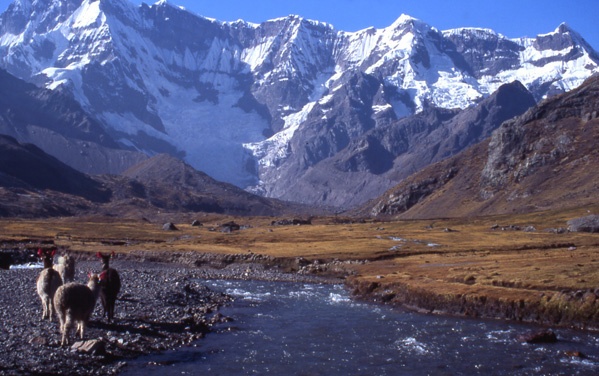 Ausangate from just above the Upis campsite.
Outline Itinerary

Days 1-2
Flight to Cuzco via Lima
Days 3-4
Days in and around Cuzco
Days 5-8
Inca Trail to Machu Picchu
Day 9
Rest in Cuzco
Days 10-18
Cordillera Vilcanota trek and climbs
Days 19-20
Return to Lima and London
---
CUZCO
The former capital of the Inca Empire, Cuzco is one of the world's most fascinating cities. Many ruins from the days before the Spanish conquest of Peru are still visible in the city and surrounding foothills. There are countless examples of the Incas incredible skill as stone-masons. Huge granite blocks fit so well that a knife cannot be inserted between them. There are also some beautiful buildings in the city built by the early Spanish colonists, including the Cathedral and buildings around the main square.
Because the city lies at an altitude of 3500m we'll spend a couple of days in Cuzco when we first arrive in Peru, getting used to the altitude. This will give us time to explore many of the ruins including the magnificent toothed fortress of Sacsayhuaman which sits on a hillside above the city and is a rival even to Machu Picchu. There will also be time to look around the markets of Cuzco and nearby towns.
THE INCA TRAIL TO MACHU PICCHU
The most spectacular way to arrive at Machu Picchu is undoubtedly the way the Incas designed the city to be approached. The Inca Trail to Machu Picchu is a four day walk along beautifully engineered Inca 'roads' crossing several high passes up to 4200m above sea level. The Inca 'roads' include long flights of steps, traverses above deep ravines and tunnels cut through solid rock. On the way to Machu Picchu the scenery becomes increasingly spectacular with views to Salcantay and other snow capped peaks. We will also pass many impressive ruins from the time of the Incas, some still half hidden in the thick forest. Then on the very last day we'll get our first view of Machu Picchu from the pass known as Intipuncu - the Gateway of the Sun.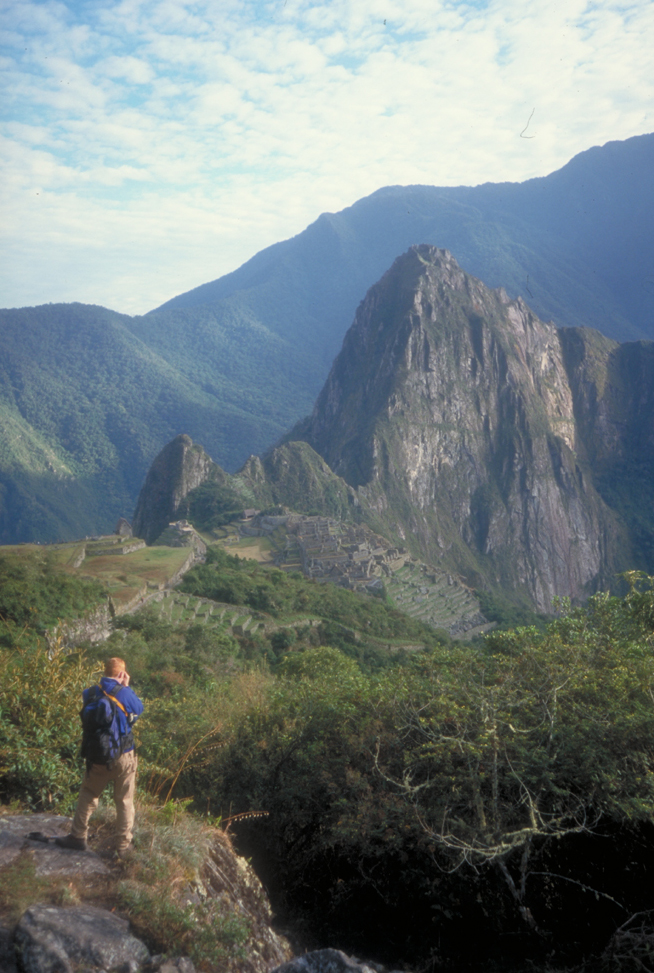 The classic view of Machu Picchu from near the gate of the sun, Intipuncu
MACHU PICCHU
Machu Picchu (pictured above) was rediscovered by Hiram Bingham early this century when he was looking for a fabled 'lost' Inca city in the deep valleys around Cuzco. This is the most famous ruin in South America and not without reason. The setting is superb and the ruins themselves are extensive with many houses, temples and fortifications. The exact reason the Incas built Machu Picchu is not known (because they left no written records) but it was clearly a site of ceremonial importance. We will have a whole day at the ruins.
THE CORDILLERA VILCANOTA
The Cordillera Vilcanota are a compact mountain range situated about 100km south east of Cuzco. They are perhaps the most rugged and remote mountains in Peru. The range contains several peaks over 6000m high, including Ausangate the highest peak at 6384m. The lower valleys that we trek through have been glaciated in the past and many small lochs remain behind. There are some idyllic campsites, several beside natural hot springs. Most of the valleys in the Vilcanota are still used as pastures by the Quechua speaking Indians and we are sure to see llamas and alpacas grazing.
We start and finish the trek in the small village of Tinqui on the northern edge of the Vilcanota mountains. The trek will be fully supported, with horses or mules carrying all equipment, but is still a relatively strenuous undertaking because of the high passes (up to 5100m) that we will cross. Typically we'll walk for six hours per day. The basic trek normally takes five days but we've allowed extra days in our schedule so that those taking the climbing option have time to climb. On summit days those not climbing will have the option of a rest day or a day spent exploring the high mountain valleys.
THE PEAKS
For those wanting to take the climbing option there will be a chance to climb a couple of peaks on our way round the Vilcanota. These are usually Campa 5470m and Huayruro Punco 5500m but the final choice will depend on current local conditions. Both peaks are relatively easy one day ascents over glaciers with some rock scrambling. There is no extra charge for this option.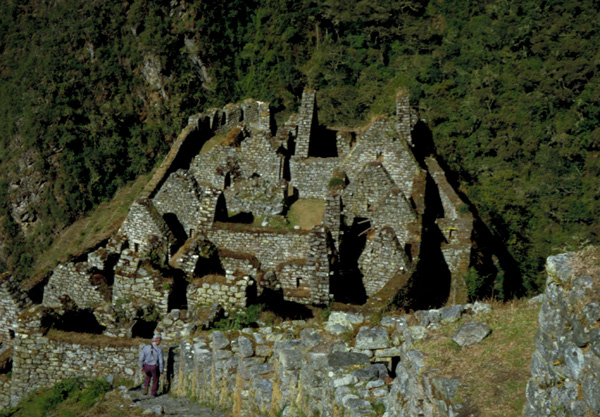 The ruins of Huinay Huayna on the Inca Trail
WILDLIFE
There are a number of interesting birds, animals and plants that we may see on our trek. Many of the valleys we walk through are still inhabited by llama herders and the domesticated llamas and alpacas will be a common sight. A wild relative of the llama, the vicuña, is fairly common in the remoter areas of the Vilcanota. Also commonly seen are vizcachas, small rodents related to the chinchilla. Rarer animals include the Andean deer and fox, several species of wild cat and the puma. Amongst the birds we are likely to see are humming birds, torrent ducks, tinamou, vultures and of course the Andean condor. Unusual plants we may well see include species of wild lupins, cactuses and the beautiful queñoa tree with its papery red bark.
CLIMATE
This time of year is the dry season in the Peruvian Andes and there are long periods of stable weather with plenty of sunshine and only occasional afternoon showers. In the highest parts of the Cordillera Vilcanota there are sometimes high winds and light snow flurries. Although the sun can be strong and warm, temperatures at 4000m-5000m can be extremely cold, going down to -5ºC during the 12 hours of darkness each night, so bring a warm sleeping bag and a good book!
FITNESS AND EXPERIENCE NECESSARY
For both the trek and climbing options customers should be experienced hillwalkers or trekkers but no climbing or mountaineering skills are needed. Previous experience of wilderness camping is very useful as these are very remote mountains. All customers on the trek should have a good level of fitness as we cross passes up to 5100m high and will walk for around 6 hours per day. For the climbing option some extra fitness and stamina is essential. Summit days will be only 6-8 hours long but will take the place of a rest day. If you have any doubts about the suitability of these expedition options for you then please give us a call. On this type of expedition there are a few hardships.. Cold nights, tired feet and some tinned and freeze-dried food are a few of the experiences which will just have to be enjoyed!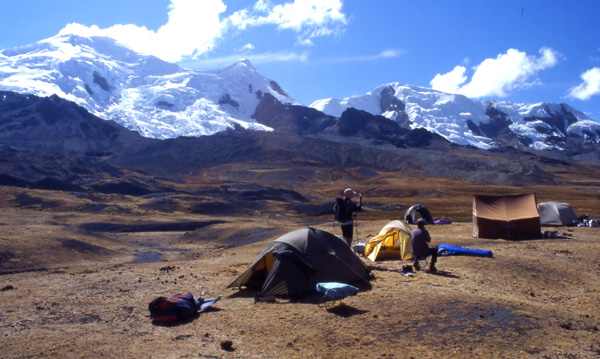 Remote camp, Cordillera Vilcanota
INSURANCE, SECURITY & HEALTH
All clients must be insured for medical costs and repatriation in an emergency. We recommend having insurance for baggage, personal liability and cancellation as well. If you would like advice on insurance please ask. Peru is one of the poorest countries in South America and it is a good idea to avoid tap water, unwashed fruit, ice, seafood and all food sold by street vendors. Vaccinations for tetanus, typhoid, polio and hepatitis are needed! Your doctor may also recommend rabies and diphtheria injections. Malaria and yellow fever precautions are not necessary as we won't be visiting mosquito risk areas. Peru (and particularly Cuzco) suffer from a bad reputation for theft. It is important to stay alert when in busy public areas and to guard your belongings carefully at all times. Muggings and other violent crime are rare. We will issue further advice to all clients before departure.
WHAT'S INCLUDED IN OUR PRICE AND WHAT'S NOT INCLUDED
Our price is for leadership/guiding and mountain services only. It INCLUDES the leaders fee (wages) and all their expenses, such as flights, travel, hotels, meals, permits. It also INCLUDES his or her share of communal expenses, which may be such things as 4x4 rentals, diesel and fuel, mule and porter costs, shared hotel rooms.
Our price also INCLUDES all mountain services such as provision of tents, stoves and all other communal camping equipment, all mountain food including all camp food and lunches on day trips. It also INCLUDES any communal mountaineering equipment that may be necessary, such as ropes, karabiners, etc., and on most expeditions emergency use of satellite telephone link.
Our price does NOT INCLUDE - your flights, your insurance, your hotel/hostel accommodation, your meals taken at cafes and restaurants, your share of communal travel costs (e.g 4x4 rental, mule costs), your personal climbing and camping equipment (i.e. used by you alone, such as sleeping bag, ice-axe, crampons, harness, helmet), permits or peak fees payable by yourself.
SAFETY AND RISK
This is an adventure holiday and all clients will be exposed to hazards not found in everyday life by taking part in this itinerary. While we take all reasonable precautions to reduce risk it is neither possible nor desirable to completely eliminate these hazards. It is important that you understand the hazards you may be exposed to before signing our booking form. We have identified the following areas as the principal additional risks of this itinerary. (Some of these could potentially result in serious injury or death). This is not a fully inclusive list - a more detailed risk assessment of this itinerary is available on our Risk Assessments page, or phone/e-mail us and ask some questions!
Driving, hotels and general safety : In Peru driving, fire safety standards and general safety standards are not as high as in Europe.
Minor slips and falls : due to steep, uneven and unstable ground.
Remoteness : You will be up to three days walk from professional medical help for periods of time. There is no chance of a helicopter rescue.
Altitude : At high altitudes there is an increased risk of medical problems, most obviously altitude illness.
Mountain Hazards : There are very slight risks from bad weather, and the usual mountain hazards including slight risks from rockfall, crevasse and avalanche hazard on the optional peak ascents.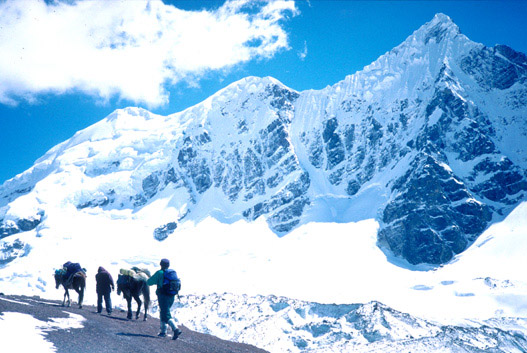 Crossing the Campa pass after a snowstorm, Cordillera Vilcanota
TREK ORGANISATION
Our treks and expeditions are designed to be small and flexible. The trek will be co-ordinated, organised and led by us, but as far as possible will adapt to the plans and aspirations of the members. We will consult and involve all members when planning the details of the expedition. Please note that the leaders decision is final where the safety of the group or any member is in jeopardy; for example where retreat or diversion is necessary due to illness or bad weather. This is one of our fully supported treks; you only ever have to carry a lightweight daysack (camera, water and lunch and spare clothing). On the Vilcanota trek we use donkeys or horses to carry all communal kit, food, cooking and camping equipment. This job is done by porters on the Inca trail.
The minimum number of customers we need to run this trek is four. The maximum size of the trek will be six customers plus leader. We have no minimum requirement to run the climbing option. In some circumstances we may be able to run the trip with a local Peruvian leader if we have fewer than four customers.