Dates
December to January or
July to August
Duration
13 days
Grade
1B
"Andes" Leadership Fee (includes leaders expenses)

About £1800
Easy Mountaineering in Colombia.
It is currently not possible to run this itinerary due to access restrictions imposed by the local indigenous community.
PRICES & COSTS
All are per person.
"Andes" Leadership Fee (includes all leaders expenses) -- About £1800
Estimated Airfares -- £800
Estimated Trek & Travel Costs in Colombia -- £400
Estimated Accommodation & Meals -- £300
ESTIMATED TOTAL COST per person -- £3300
What's included in the price you pay ANDES and what's not.
---
INTRODUCTION
ANDES ran the first commercial climbing trip to Colombia in 2001, and we first visited the Sierra Nevada del Cocuy in 2006, both many years before any other company was running trips to Colombia. We've also visited the country to climb in 2009, 2011, 2014, 2015 and 2022. This expedition sees us returning to do some climbing in the remote and spectacular Sierra Nevada del Cocuy.
After a flight to the Colombian capital Bogotá we'll travel north by private vehicle to the beautiful wee town of El Cocuy and the mountain range of the same name. From here we will first spend two days walking and acclimatising in the central part of the Sierra Nevada del Cocuy massif to get acllimatised We then make our first mountain trip into the area of Laguna Grande and climbing the peaks of Concavo (5180m) and Pan de Azucar (5140m). We'll finish our time in the Sierra Nevada del Cocuy with a two day ascent of the highest peak, Ritacuba Blanco 5410m, which is a straightforward snow climb from a high camp at about 4800m.
Expedition members should be experienced summer walkers ideally with some alpine or snow walking experience. Skills using an ice-axe and crampons will be needed for the ascents, but these can easily be gained or improved on the expedition and is not necessary to have used these before you join.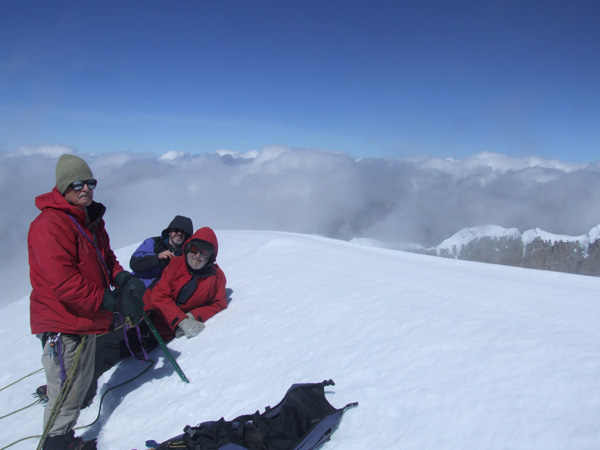 Three clients with a combined age of 195 on the summit of Ritacuba Blanco, Sierra Nevada del Cocuy, February 2009. You're never too old to do something adventurous.!
Outline Itinerary

Day 1
Flight to Bogota
Day 2
Day in Bogota. Acclimatisation
Day 3-5
Travel to Cocuy village and acclimatisation walks
Day 6-8
Climbs of Concavo and Pan de Azucar
Day 9-10
Ritacuba Blanco ascent
Day 11-13
Return to Bogota and fly home
---
General Information about our holidays
Please read our warning on altitude before booking this expedition to high altitudes.
Who runs 'Andes' and where we are based
General information about equipment, accommodation, flights, meals etc.
---
BOGOTA
The expedition will fly out to the city of Bogota, the capital of Colombia, at an altitude of 2680m. We'll have a short time here at the start and end of the expedition, when there will be time to see some of the sights or the famous gold museum. Bogota is a pleasant and attractive city despite its size and is a much friendlier and more relaxing place than its reputation.
SIERRA NEVADA DEL COCUY & RITACUBA BLANCO
The main part of this expedition will take us to the beautiful Sierra Nevada del Cocuy in the northwest of the country. One of the most scenic parts of the Andes, this range boasts snow-capped peaks, huge rock walls and unusual vegetation. The area is popular with local Colombian climbers and walkers. We'll travel from Bogotá in a privately hired vehicle to the pretty wee village of El Cocuy at 2700m. From here we will spend a couple of days walking in the central part of the Cocuy massif to acclimatise before the main climbing agenda, finishing with an ascent of the highest peak in the range, Ritacuba Blanco 5410m.
Ritacuba Blanco, at 5410m high, is the highest peak in the Sierra Nevada del Cocuy. It is a reasonably straightforward climb over easy angled snow on the western slopes above Las Cabañas, usually with a high camp on rock slabs beneath the glacier at 4600m. From the summit there are spectacular views of the cliffs on the eastern side of the range to the remote valleys of the eastern Sierra Nevada, and even on many days all the way to the Sierra Nevada de Merida in Venezuela, 270km away!.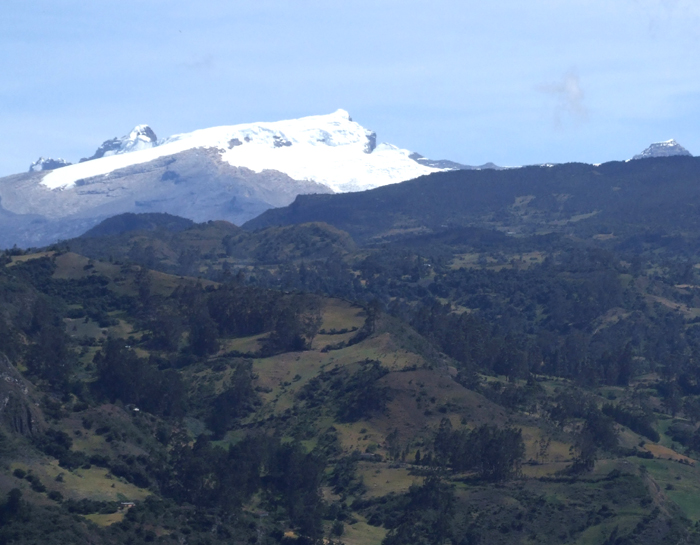 Ritacuba Blanco from above Las Cabañas.
FITNESS & EXPERIENCE REQUIRED
Clients should be experienced summer walkers or trekkers. Some experience of using an ice-axe and crampons would be an advantage but is not essential as adequate instruction can be given during the course of the expedition. Ascents to over 5000m require considerable fitness. Good hillwalking fitness is obviously important, but you'll also need some cardiopulmonary fitness. This is best obtained by a program of intensive exercise such as running, circuit training, squash or cycling. There will be some short sections of backpacking on this itinerary of up to 2 or 3 hours, carrying 15-18kg rucksacks.
CLIMATE
The weather in Colombia can be a little unpredictable. Periods of good weather alternate with short periods of bad weather every few days, so it is possible that at least one of the ascents may involve waiting for a day of suitable weather. We will be climbing in the area during the short summer dry season, but it is not as well defined a dry season as parts of the Andes further south, like Bolivia, enjoy. However the sun does come out very frequently and when it does it is almost overhead and very strong. At altitude there can be cold winds and temperatures are normally low, going down to -5ºC during the hours of darkness each night, so bring a warm sleeping bag and a good book!
The 5180m high peak of Concavo from Pan de Azucar.
INSURANCE & SECURITY
All clients must be insured for medical costs and repatriation in an emergency. We recommend having insurance for baggage, personal liability and cancellation as well. If you would like further advice please ask. Colombia has something of a reputation as a security risk but Bogota and the Sierra Nevada del Cocuy have been considered safe for many years now and have certainly proved reasonably safe on our four previous visits to the range (we did once have clients who had some camping equipment stolen). If this situation changes we might have to substitute an alternative destination. We issue further advice on security to all clients before departure. It should be stressed that we have run countless expeditions to South America over twenty-five years including seven previous visits to parts of Colombia and we can quite confidently say that in general people are more likely to lose something than have it stolen!
SAFETY AND RISK
This is an adventure holiday and all clients will be exposed to hazards not found in everyday life by taking part in this itinerary. While we take all reasonable precautions to reduce risk it is neither possible nor desirable to completely eliminate these hazards. It is important that you understand the hazards you may be exposed to before signing our booking form. We have identified the following areas as the principal additional risks of this itinerary. (Some of these could potentially result in serious injury or death). This is not a fully inclusive list - a more detailed risk assessment of this itinerary is available on our Risk Assessments page, or phone/e-mail us and ask some questions!
Crime : Colombia has a higher crime rate than Europe. As a wealthy tourist you may attract attention.
Driving, hotels and general safety : In Colombia driving, fire safety standards and general safety standards are not as high as in Europe.
Remoteness : You will be more than a days walk from medical help for some of the time. There is almost no chance of a helicopter rescue.
Minor slips and falls : due to steep, uneven and unstable ground.
Weather : The mountains of Colombia can be affected by cloudy weather making navigation difficult. Forecasts are not so reliable and not always available.
Mountain Hazards : On all the climbs there is a very slight risk of avalanche and crevasse falls. In certain places you may be subjected to a slight risk of rockfall.
Altitude : At high altitudes there is an increased risk of medical problems, most obviously altitude illness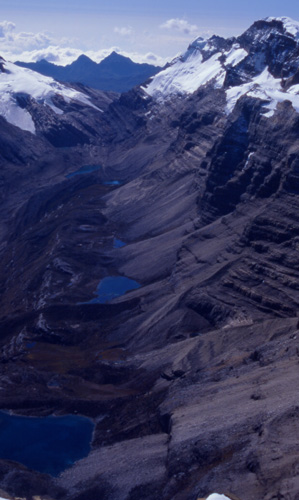 The summit view from Ritacuba Blanco, Sierra Nevada del Cocuy.
ORGANISATION & LEADERSHIP
Our expeditions are designed to be small and flexible. The expedition will be co-ordinated, organised and lead by us, but as far as possible will adapt to the plans and aspirations of the members. We will consult you when planning the details of the expedition. We publish an outline itinerary so that we have something to fall back on if none of us can agree! Please note however that the leaders decision is final where the safety of the group or any member is in jeopardy; for example where retreat or diversion is necessary due to illness or bad weather. The minimum number of customers we need to run this expedition is three. The maximum size of the expedition will be four customers plus leader.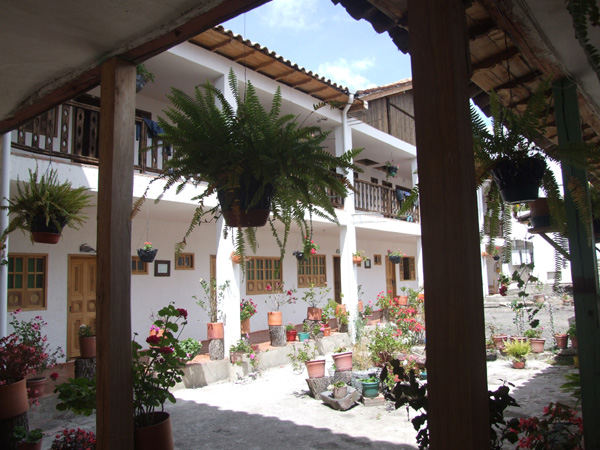 Our hotel in El Cocuy village, February 2009
WHAT'S INCLUDED IN OUR PRICE AND WHAT'S NOT INCLUDED
Our price is for leadership/guiding and mountain services only. It INCLUDES the leaders fee (wages) and all their expenses, such as flights, travel, hotels, meals, permits. It also INCLUDES his or her share of communal expenses, which may be such things as 4x4 rentals, diesel and fuel, mule and porter costs, shared hotel rooms.
Our price also INCLUDES all mountain services such as provision of tents, stoves and all other communal camping equipment, all mountain food including all camp food and lunches on day trips. It also INCLUDES any communal mountaineering equipment that may be necessary, such as ropes, karabiners, etc., and on most expeditions emergency use of satellite telephone link.
Our price does NOT INCLUDE - your flights, your insurance, your hotel/hostel accommodation, your meals taken at cafes and restaurants, your share of communal travel costs (e.g 4x4 rental, mule costs), your personal climbing and camping equipment (i.e. used by you alone, such as sleeping bag, harness, helmet), permits or peak fees payable by yourself.