Dates
29th January - 11th February 2022

(to 16th February with Chirripo extension)
Duration
14 days
Grade
1A
"Andes" Leadership Fee (includes leaders expenses)

£1595
Hiking the volcanoes of Central America.
Including ascents of the highest peaks in Guatemala and El Salvador.
PRICES & COSTS
All are per person.
"ANDES" Leadership Fee (includes leaders expenses) -- £1595
Estimated Airfares -- £800
Estimated Travel Costs in Central America -- £200
Estimated Accommodation & Meals -- £600
ESTIMATED TOTAL COST per person -- £3200
CHIRRIPO EXTENSION - ANDES leadership fee of £495 plus expected costs of around £250, for a total estimated cost of £3950 per person.
What's included in the price you pay ANDES and what's not.
---
INTRODUCTION
It's not the Andes but it is still Latin America and they do still speak Spanish in all the countries we visit on this new itinerary. The main itinerary visits two neighbouring countries in northern Central America where we'll climb six different mountains, mainly volcanoes. These include the highest peaks in both El Salvador and Guatemala. The countries in this itinerary are quite contrasting, but are small and compact countries, so the overall distances travelled are not huge. On the regular itinerary the highest peak we will climb is Volcan Tajumulco, 4220m in Guatemala. We're also offering an optional extension of 5 days to climb the highest peak in Costa Rica, Cerro Chirripo.
We travel to the area in the winter dry season and a large number of dry and sunny days can be expected, with cool or even cold nights. We'll begin the journey with a flight to San Salvador, capital of El Salvador. From here we travel in half a day to the Santa Ana area for our first couple of volcanoes, before moving on to El Pital, at 2731m the highest peak of El Salvador, lying on the border with Honduras.
We then travel to the beautiful town of Antigua in Guatemala. This is a relatively tourist orientated town set amongst dramatic steep (and often erupting) volcanoes. From the town it is often possible to see lava running down the sides of Volcan de Fuego at night. While based in this pretty little town we'll climb Volcan Pacaya, Acatenango and Volcan de Agua. We'll also make an overnight trip (hotel based) away to climb Volcan Tajumulco, the highest peak in Guatemala.
The holiday is entirely hotel based and we'll use private transport, mainly rented vehicles, to travel around. The ascents are all day trips, but a good standard of fitness is still necessary. While some peaks like El Pital are very short hikes, others are quite long climbs to moderate altitudes of 3500-4000m, with up to 1500m or even 1600m of ascent (and descent) in one day. There is no scrambling or technical terrain, in fact we'll mainly be on good footpaths, and no chance of any snow or ice either.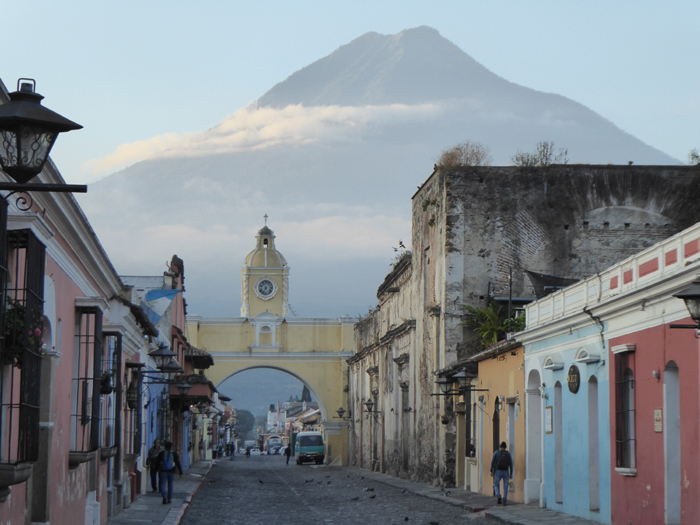 The 3761m high Volcan de Agua from the streets of nearby Antigua, Guatemala.
Outline Itinerary

Day 1

Flight to San Salvador (probably via Panama)
Days 2-4
Travel to and climb Ilamatepec and Izalco, near Santa Ana
Day 5
Travel to Pital and sh

ort hike to summit

Day 6
Travel to Antigua, Guatemala
Days 7-9
Ascents

of Pacaya and Acatenango (and possibly Agua)

Days 10-11
Travel to and climb Tajumulco
Day 12
Return to Antigua
Days 13-14
Overnight fl

ight home

Days 15-19
Optional Extension to Ch

irripo in Costa Rica
Please note that this is an itinerary where we may have to make a peak substitution if the activity level of one of our planned volcanoes changes significantly!
---
General Information about our holidays
Who runs 'Andes' and where we are based
General information about equipment, accommodation, flights, meals etc.
---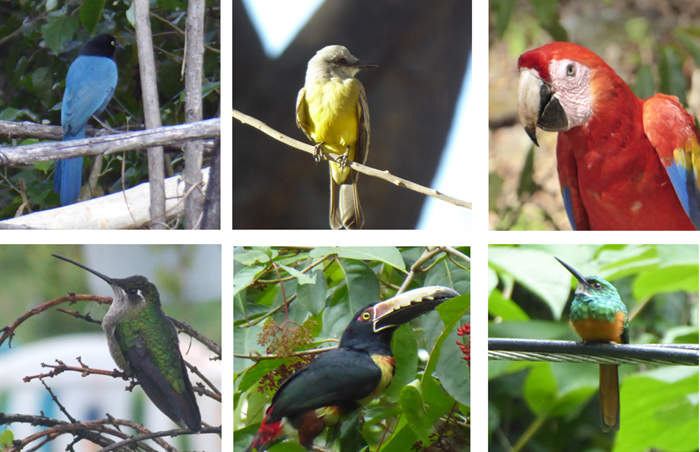 Birds we have seen on recent trips to Central America. From top, Bushy Crested Jay, Tropical Kingbird, Scarlet Macaw, Talamanca Hummingbird, Collared Aracari, Rufous-tailed Jacamar.
ILAMATEPEC & IZALCO
Our first major mountain destination are the twin volcanoes of Ilamatepec 2362m, and Izalco, 1981m. Ilamatepec is often known as Volcan Santa Ana, and erupted as recently as the mid-2000's. Izalco was almost continuously erupting until just a decade or so ago, and was known as the "Lighthouse of the Pacific" because it was used by ships in the nearby ocean to navigate. We have a day to climb each of these volcanoes. Izalco involves about 800m of ascent in total, Ilamatepec just 600m or so. There is actually a third volcano in the area, Cerro Verde 2030m, which we will explore on our first afternoon in this area, but as you can drive to the top it's not so much exercise!

Panoramic shot of the huge crater on Ilamatepec (Volcan Santa Ana).

ANTIGUA AND THE GUATEMALAN VOLCANOES
Antigua was the ancient capital of Guatemala and is now a very attractive old colonial town just 1½ hours from Guatemala City (and international airport). We'll be based in a hotel here for most of our time in Guatemala, with just a short trip away overnight to climb Tajumulco. The town lies at a height of about 1000m, so the nights are cool, but it is normally pleasantly warm and sunny through the day (e.g. 20-25ºC).
There are three volcanoes we can get to and climb in day trips from Antigua. These are Pacaya 2500m, Acatenango 3976m and Volcan de Agua 3761m. We'll climb Pacaya first, a relatively benign climb on a good path with just 600m of ascent. However the views are usually pretty spectacular as this is one of Guatemalas more active volcanoes. Cooling lava and ash eruptions are both commonly seen. Next up, we'll climb Acatenango, a steep cone with a tiny crater that sits next to the incredibly active Fuego volcano. We'll climb this in one long day (1500m ascent) by good paths on the east side of the mountain, starting in farmland, then up through tropical forest and mountain pine forest before reaching the bare rock of the summit area. We may also have time to climb Volcan de Agua, depending on travel connections and client fitness, but it is not a certainty. Agua is another big ascent, of about 1500-1600m, which we would climb as a day trip from Antigua, starting and finishing our hike in the town of Santa Maria.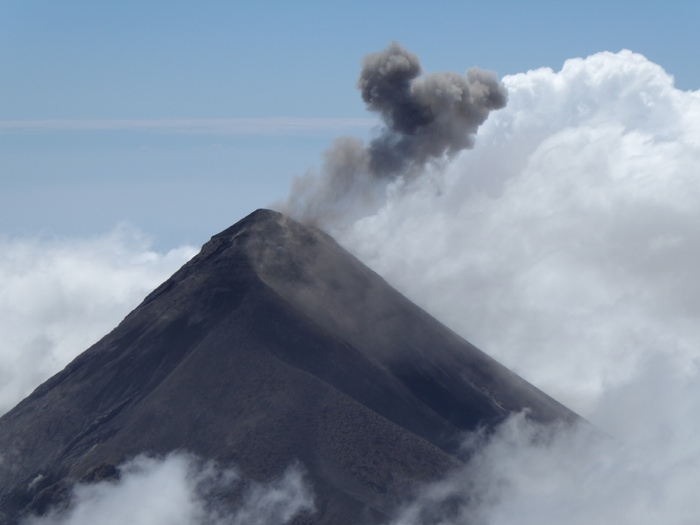 Volcan de Fuego erupting as seen from the summit of Acatenango. January 2020.
VOLCAN TAJUMULCO
Tajumulco is an inactive volcano and the highest point in both Guatemala and the whole of Central America. We'll climb Tajumulco from above the wee town of San Marcos, by the standard route on the east side of the mountain. This will involve an overnight away from Antigua in a different hotel, and it's possible that we'll spend two nights away depending on weather, group fitness, etc. The climb starts at an altitude of almost 3000m, so is about 1200-1300m up and down to the summit, through trees at first, and then onto moorland/grassland.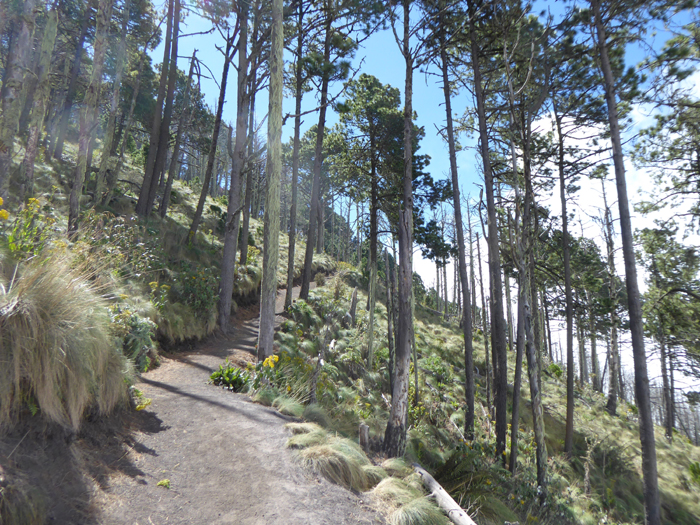 Typical pine forest scenery high on Tajumulco.
OPTIONAL EXTENSION - CERRO CHIRRIPO - COSTA RICA
We're offering a 5-day extension to the main itinerary to travel on (by plane) to Costa Rica and climb the highest peak in the country, known as Chirripo. This 3820m high peak is a big ascent, with over 2400m from the road to the summit. We'll overnight in a mountain hut on our way up, for which your own sleeping bag will be necessary. The trek begins in lush (and sometimes wet!) tropical rainforest at an altitude of just 1400m and we'll have a fairly tiring day up a ridge in the forest to reach the Crestones hut at 3400m near the treeline. The second day we make an early start for the short, 400m ascent over moorland and brushy srcub to the summit, then descend all the way back to the start. This area can be quite a bit wetter than El Salvador and Guatemala.
This extension will turn the trip into a 19 day itinerary, flying home overnight from 27th to 28th January. The cost payable to ANDES for this extension is £495, and the expected extra logistical costs are about £200.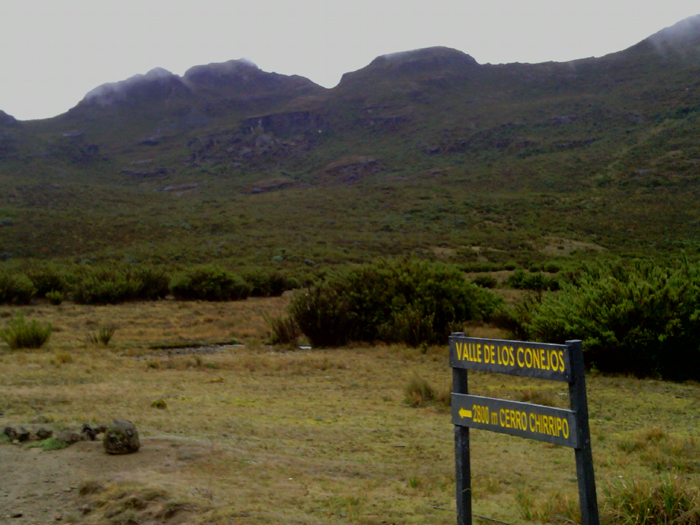 Near the summit of Chirripo, Cordillera Talamanca, Costa Rica.
FITNESS & EXPERIENCE REQUIRED
While the altitudes reached on this itinerary are not extreme we do have a few quite long summit days on the schedule, with up to 1500m of ascent. A good standard of fitness is required for these long ascent days. However it will be easy to sit out one or more of the ascents for those who do not want to climb so many peaks in such a short time! In the itinerary we'll climb progressively higher peaks, from the 2000m range to the 3000m range and then finally over 4000m. Most nights are spent at 1000m-15000m, so some gradual acclimatization to altitude is built into the itinerary.
CLIMATE
We travel to Central America in the winter dry season, when the weather is also at its coolest. We can expect a lot of clear sunny days and few (if any) rainy days. In the lowlands temperatures regularly reach 25ºC or even 30ºC, but higher up and particularly on summit days, it may only be pleasantly warm (15ºC) or even cold (5ºC to 10ºC). This is especially true near the summits of the highest peaks at c.4000m. As we are in the tropics there are 12 hours of darkness each night, so bring a good book!
INSURANCE, HEALTH & SECURITY
All clients must be insured for medical costs and repatriation in an emergency We recommend having insurance for baggage, personal liability and cancellation as well. If you would like advice on insurance please ask. Vaccinations for tetanus, typhoid, polio and hepatitis are needed, but malaria and yellow fever precautions are not necessary as we won't be visiting mosquito infested areas. El Salvador, Guatemala and Costa Rica are generally friendly countries to visit but it is important to stay alert when in busy public areas and to guard your belongings carefully. Muggings and violent crime against tourists are very rare, but do happen. We issue further advice on security to all clients before departure.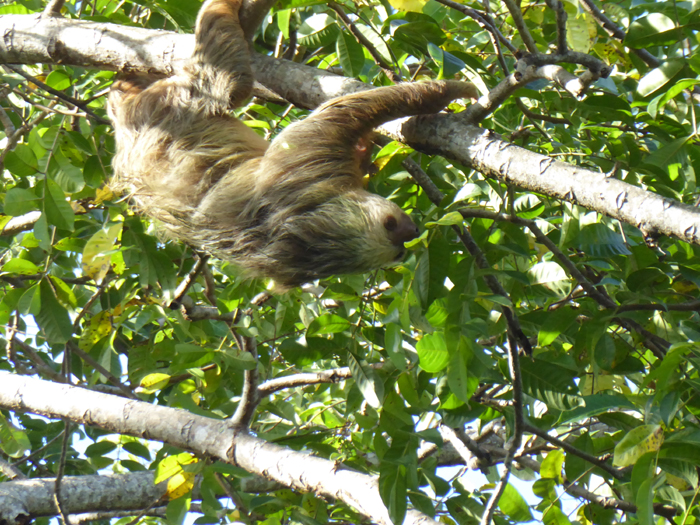 Hoffmans three-toed sloth, Costa Rica.
SAFETY & RISK
This is an adventure holiday and all clients will be exposed to hazards not found in everyday life by taking part in this itinerary. While we take all reasonable precautions to reduce risk it is neither possible nor desirable to completely eliminate these hazards. It is important that you understand the hazards you may be exposed to before signing our booking form. We have identified the following areas as the principal additional risks of this itinerary. (Some of these could potentially result in serious injury or death). This is not a fully inclusive list - a more detailed risk assessment of this itinerary is available on our Risk Assessments page, or phone/e-mail us and ask some questions!
Crime : All three countries have much higher crime rates than Europe. While we travel in a way that should avoid these dangers as far as possible, as a wealthy tourist you may still attract attention.
Driving, hotels and general safety : In all three countries driving, fire safety standards and general safety standards are not quite as high as in Europe, although you may be surprised by how calm the driving is.
Remoteness : You will be several hours from medical help for short periods of time on summit days.
Minor slips and falls : Due to steep, uneven and unstable ground in the mountains. It can also be slippery and muddy after recent rainfall.
Weather : The mountains of Central America have only minor hazards associated with mountain weather, but forecasts are not as reliable.
Mountain Hazards : These are relatively low as the peaks are mostly straightforward hikes on good trails.
Natural Hazards : All three countries can experience large and powerful earthquakes. As we climb on some volcanoes that are at least partly active, volcanic hazard cannot be completely eliminated.
Please note that this is an itinerary where we may have to make a peak substitution if the activity level of one of our planned volcanoes changes significantly!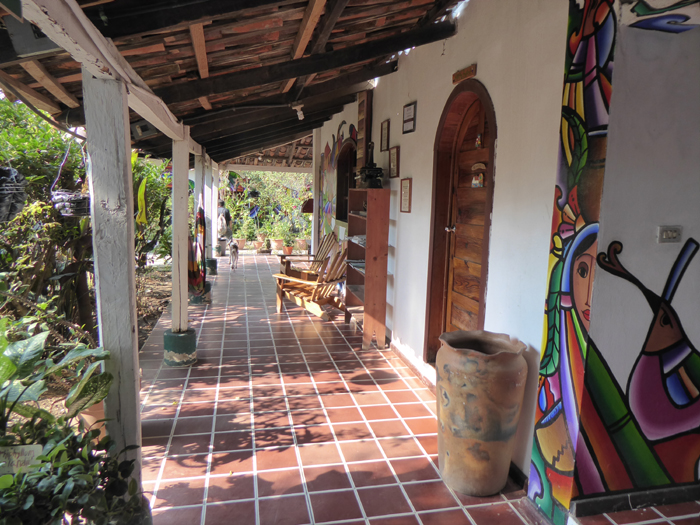 The hotel we use in La Palma, near Cerro El Pital, El Salvador.
ORGANISATION & LEADERSHIP
Our holidays are designed to be small and flexible. The trip will be co-ordinated, organised and lead by us, but we will consult members when planning the details of the trip and aim to be as flexible as possible over your choice of climb or scramble each day. We publish an outline itinerary so that we have a framework on which to build the trip. Please note however that the leaders decisions will be final where the safety of the group or any member is in jeopardy; for example where retreat or diversion is necessary due to illness or bad weather. The minimum we need to run this expedition is three customers. The maximum size will be four customers plus leader(s).
WHAT'S INCLUDED IN OUR PRICE AND WHAT'S NOT INCLUDED
Our price is for leadership/guiding and mountain services only. It INCLUDES the leaders fee (wages) and all their expenses, such as flights, travel, hotels, meals, permits. It also INCLUDES his or her share of communal expenses, which may be such things as vehicle rentals, vehicle fuel, shared hotel rooms.
Our price also INCLUDES all mountain services such as transport, guiding, safety equipment, and all mountain food including lunches on day trips. It also INCLUDES any communal expedition emergency kit, group shelters and use of an emergency satellite telephone link.
Our price does NOT INCLUDE - your flights, your insurance, your hotel accommodation, your meals taken at cafes and restaurants, your share of communal travel costs (e.g. vehicle rental), also permits or park entrance fees payable by yourself.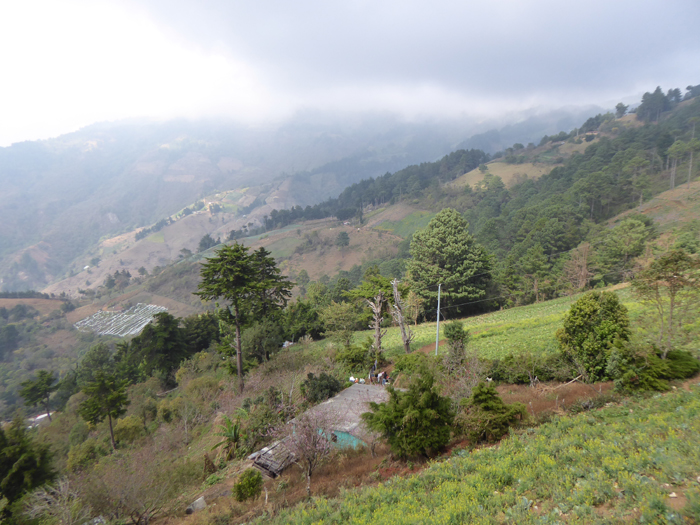 Rural scenery in northern El Salvador, taken at about 15000m on the drive up to Cerro Pital.