Dates
June- August
Duration
14 days
Grade
2A to 4A
"Andes" Leadership Fee (includes leaders expenses)

about £1700
Scrambling and climbing in the coastal mountains of Brazil
PRICES & COSTS
All are per person.
"Andes" Leadership Fee (includes leaders expenses) -- about £1700
Estimated Airfares from teh UK-- £700
Estimated Travel Costs in Brazil -- £300
Estimated Accommodation & Meals -- £800
ESTIMATED TOTAL COST per person -- £3500
What's included in the price you pay ANDES and what's not.
---
INTRODUCTION
This itinerary visits three of the best mountain and rock-climbing areas in Brazil. We'll begin with four days in Rio de Janeiro before moving on to the Itatiaia national park and then finally the Pedra do Bau, spending three days at each of these venues. The trip is open to those who want to rock climb and those who would rather walk or scramble, our instructors will offer alternative routes every day.
Probably the best rock climbing in Brazil is in and around Rio de Janeiro. This is a city with plenty of mountains, There are steep 200m crags right by the pavements in Urca and the world famous landmark of the Cristo Redentor statue stands at the top of a peak called Corcovado. The equally famous Pao de Acucar (Sugar Loaf) peak has some stunning rock climbs on one face, but is an easy scramble around the back. Climbing and walking in the dramatic coastal scenery and vibrant beach culture of Rio is an unforgettable experience.
After our time climbing and scrambling by the beaches of Rio we will visit two of the best mountain areas in Brazil including the impressive Pedra do Bau in the scenic Serra da Mantiqueria. There are climbing routes and "via ferrata" of up to 300m long on this peak and on the neighbouring peaks of Ana Chata and the Bauzinho. Elsewhere in the mountains of Brazil there is excellent climbing and scrambling in the Itatiaia national park, including the peak of Agulhas Negras 2787m, which has both easy scrambling and harder rock climbing routes on its flank.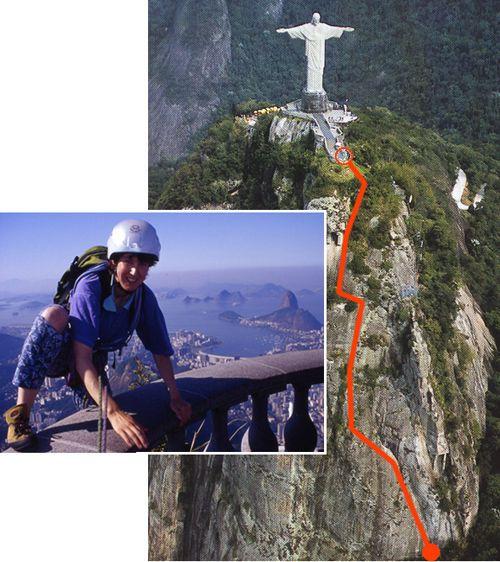 Climbing on K2 (150m, E1 - 5.10a) one of the worlds coolest rock climbs...!.
For more information on rock climbing in South America visit our Rock Climbing Information page.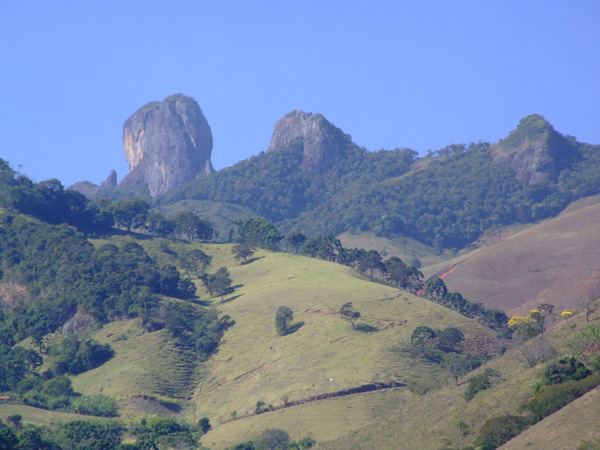 Stunning scenery at the Pedra do Bau, Sao Bento Sepucai, Brazil.
Outline Itinerary

Days 1-2

Flight to Rio de Janeiro
Days 3-6
Climbing, walking and scrambling in Rio
Days 7-9
Travel to and time in Itatiaia national park
Days 10-12
Climbs and via ferrata at Pedra do Bau
Days 13-14
Return to Rio and home
---
General Information about our holidays
Who runs 'Andes' and where we are based
General information about equipment, accommodation, flights, meals etc.
---
RIO DE JANEIRO
Some of the best walking and climbing in Brazil is located in and around the city of Rio de Janeiro. Rio is a stunning city with much dramatic mountain and coastal scenery and a very vibrant culture. It is an unforgettable place to spend some time walking and climbing. The standard of hotels here is very good, we usually opt for one a few blocks back from Copacabana beach to try and keep costs reasonable.
For climbers there are the 200m high crags of the Morro da Babilonia, located just 15m from the pavements in Urca and more remote long routes on the far side of the famous Sugar Loaf peak (Pao de Acucar). The Pao de Acucar peak has literally a hundred excellent routes on it, and all of them have the bonus of a free descent in the cable car afterwards. Across the city the world famous landmark of the Cristo Redentor stands at the top of a peak called Corcovado which has some more excellent climbing. There are crags on several other mountains in the city. The climbing on all the crags in and around Rio is mostly on slabby granite, with all routes bolt protected, but the bolts are more "adventuous" than most sport climbing.
For scramblers the famous Sugar Loaf (Pao de Acucar) peak at the entrance to the harbour has a superb scrambling route on it. Across the city are the peaks of Pedra do Gavea and Pico da Tijuca, both with excellent easy scrambles to their summits, from where there are superb views of the Atlantic beaches. The slopes of these peaks are covered in well preserved tropical forest and we will see many exotic species of birds, mammals and plants on our way up the hills, such as toucans, manikins, coatis and marmosets.
We'll climb and scramble as many routes as possible at a variety of venues during our days based here. There will also be a chance to see some of the city and its famous beaches in the afternoons when it gets too hot to climb or walk.!
Scrambling on Agulhas Negras, Itatiaia national park .
ITATIAIA NATIONAL PARK
About four hours drive inland from Rio is one of Brazil's best mountain national parks. Itatiaia has many peaks over 2500m high, the majority of them with good rock climbing on their flanks but easy enough scrambles to their summits. Indeed the highest peak of Agulhas Negras, 2787m, can be climbed by a variety of long and interesting middle-grade routes as well as a classic scramble. We'll also climb on the peaks of Pedra do Altar and Prateleiras, which has a very entertaining scramble on it. The park gets quite cold at night and even very occasionally sees a little snow -- we are travelling in Brazil's winter dry season. Brazilians from nearby Sao Paulo come up every weekend to experience such unusually cold weather! While in Itatiaia we'll be staying in a fairly basic mountain hut at the entrance to the national park.
PEDRA DO BAU
Our final destination will be the impressive rock peak of the Pedra do Bau in the Serra da Mantiqueria near Sao Paulo. This 2050m peak rises spectacularly from the forests and fields around the village of Sao Bento Sepucai. There are climbing routes of up to 300m on this peak and on the neighbouring peaks of Ana Chata and the Bauzinho. The Pedra do Bau has two stunning and exposed via ferrata on it as well. The rock is again a type of granite. While staying here we will base ourselves in the nearby village of Sao Bento Sepucai. Sao Bento is a charming wee village with many beautiful colonial style buildings set amongst rolling green hills in a rich agricultural area where cattle, coffee and bananas are raised.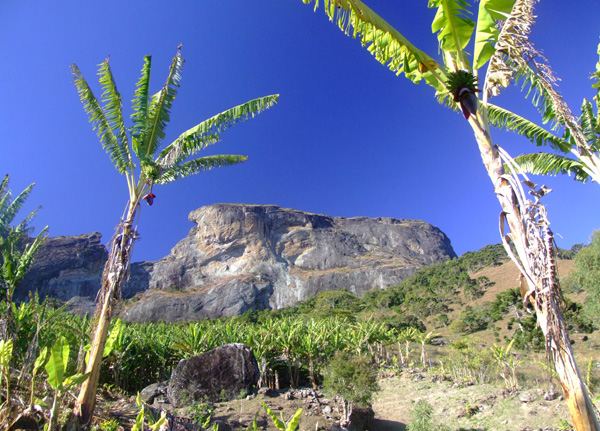 Stunning scenery near Sao Bento, featuring the Pedra do Bau and some banana trees.
FITNESS & EXPERIENCE REQUIRED
Climbers should ideally be experienced rock climbers who can second routes to at least Severe or Very Severe (US grades 5.6 or 5.7) comfortably. In general scramblers should be happy on grade 2 and 3 scrambles (UK) or on all 4th class terrain (US) and be comfortable with some exposure.... All climbs and scrambles will be lead and guided by us, there is no requirement to lead climb. However we should stress that there are almost endless great things to do in the mountains of Brazil, and we will tailor the trip to the aspirations and abilities of those who book, whether you want to climb, walk or scramble. And of course you can always take a day off in Rio and lie on the beach at Copacabana.! Please call or email us (contact) if you wish to discuss the suitability of this holiday for you.
CLIMATE
We travel to Brazil in the winter dry season, when the weather is also at its coolest. We can expect a lot of clear sunny days and few (if any) rainy days. On the coast temperatures regularly reach 25ºC but higher up inland, and particularly at Itatiaia, it may only be pleasantly warm (15ºC) during the day. It gets cold at night in Itatiaia with temperatures occasionally dropping below freezing. As we are in the tropics there are 12 hours of darkness each night, so bring a good book!
INSURANCE, HEALTH & SECURITY
All clients must be insured for medical costs and repatriation in an emergency We recommend having insurance for baggage, personal liability and cancellation as well. If you would like advice on insurance please ask. Brazil is one of the most developed countries in South America. Vaccinations for tetanus, typhoid, polio and hepatitis are needed, but malaria and yellow fever precautions are not necessary as we won't be visiting mosquito infested areas. Brazil is a very friendly and relatively safe country to visit but it is important to stay alert when in busy public areas and to guard your belongings carefully. Muggings and violent crime against tourists are rare. We issue further advice on security to all clients before departure.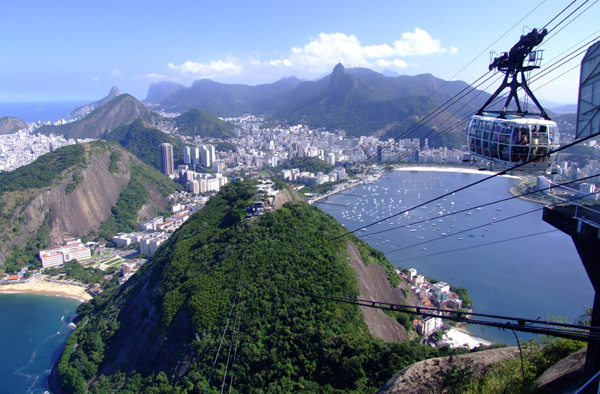 The crags and peaks of Rio as seen from the topmost cable car station on the Pao de Acucar (Sugar Loaf).
SAFETY & RISK
This is an adventure holiday and all clients will be exposed to hazards not found in everyday life by taking part in this itinerary. While we take all reasonable precautions to reduce risk it is neither possible nor desirable to completely eliminate these hazards. It is important that you understand the hazards you may be exposed to before signing our booking form. We have identified the following areas as the principal additional risks of this itinerary. (Some of these could potentially result in serious injury or death). This is not a fully inclusive list - a more detailed risk assessment of this itinerary is available on our Risk Assessments page, or phone/e-mail us and ask some questions!
Crime : Brazil (and particularly Rio) has a higher crime rate than Europe. As a wealthy tourist you may attract attention.
Driving, hotels and general safety : In Brazil driving, fire safety standards and general safety standards are not as high as in Europe. In particular the driving standards are very poor!
Remoteness : You will be several hours from medical help for short periods of time.
Minor slips and falls : Due to steep, uneven and unstable ground in the mountains and when approaching rock climbs.
Weather : The mountains of Brazil have only minor hazards associated with mountain weather, but forecasts are not as reliable.
Mountain Hazards : On all scrambles, rock climbs and abseils there is always a very small risk of falls or other mistakes resulting in injury or death. In certain places you may be subjected to a slight risk of rockfall, although this is not a serious hazard.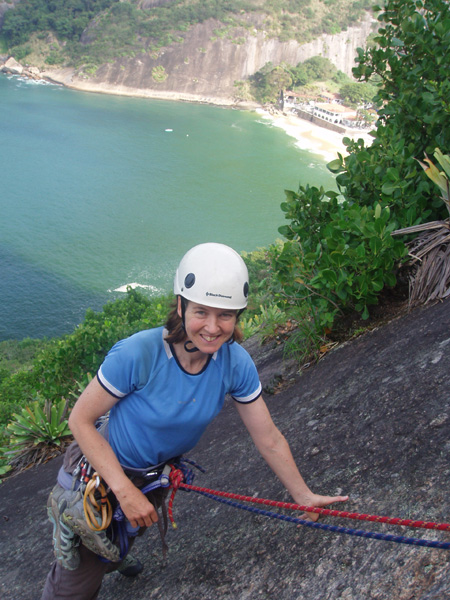 Rock climbing on the Sugar Loaf, above Praia Vermelha.
ORGANISATION & LEADERSHIP
Our holidays are designed to be small and flexible. The trip will be co-ordinated, organised and lead by us, but we will consult members when planning the details of the trip and aim to be as flexible as possible over your choice of climb or scramble each day. We publish an outline itinerary so that we have a framework on which to build the trip. Please note however that the leaders decisions will be final where the safety of the group or any member is in jeopardy; for example where retreat or diversion is necessary due to illness or bad weather. The minimum we need to run this course is three customers. The maximum size will be four customers plus leader(s).
WHAT'S INCLUDED IN OUR PRICE AND WHAT'S NOT INCLUDED
Our price is for leadership/guiding and mountain services only. It INCLUDES the leaders fee (wages) and all their expenses, such as flights, travel, hotels, meals, permits. It also INCLUDES his or her share of communal expenses, which may be such things as carrentals, diesel and fuel, shared hotel rooms.
Our price also INCLUDES all mountain services such as provision of mountain food including lunches on day trips. It also INCLUDES any communal mountaineering equipment that may be necessary, such as ropes, karabiners, etc
Our price does NOT INCLUDE - your flights, your insurance, your hotel/hostel accommodation, your meals taken at cafes and restaurants, your share of communal travel costs (e.g car rental), your personal climbing equipment (i.e. used by you alone, such as shoes, harness, helmet), permits or peak fees payable by yourself.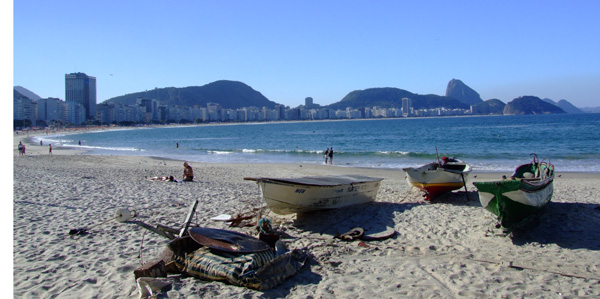 Copacabana beach, Rio de Janeiro, with the Sugar Loaf in the distance.