Dates
May or June
Duration
16 days
Grade
2B
"Andes" Leadership Fee (includes leaders expenses)

about £2000
High Altitude Ski Mountaineering in Bolivia.
PRICES & COSTS
All are per person.
"Andes" Leadership Fee (includes leaders expenses) -- about £2000
Estimated Airfaresfrom the UK -- £1200
Estimated Travel Costs in Bolivia -- £300
Estimated Accommodation & Meals -- £500
ESTIMATED TOTAL COST per person -- £4000
What's included in the price you pay ANDES and what's not.
---
INTRODUCTION
This itinerary visits a country we know well to explore some of the highest mountains on skis. We aim to keep the itinerary fairly flexible to make the best use of snow conditions for ski-mountaineering, but plan to ski one high 5800m+ or 6000m peak after an initial phase of skiing several 5000-5500m peaks.
The expedition will fly out to La Paz, the capital of Bolivia. Our first two days will be spent in this city and visiting nearby tourist attractions to acclimatise to the altitude. Then we'll spend a half day out at the world's highest 'ski resort' just outside the city. Called Chacaltaya, it is at 5100m and has only one old and broken rope tow, but a high road provides easy access to the snowline and if conditions are good we'll do a half day ski-tour. For out first big mountain trip we will ski several 5000m peaks around the Khara Khota valley in the central Cordillera Real. This first short mountain trip will be based in tents, with several nights camping and approaches to the mountains by 4x4 and/or on foot. The scenery in this high and remote valley is really superb and in the past we've had good snow conditions on the peaks.
Finally, our main objective is to ski a high 5800m+ or even 6000m peak. This is very likely to be either the volcano, Volcan Parinacota 6342m (pictured a long way below) or a peak in the southern Cordillera Real called Mururata, 5869m (pictured above and in the middle of the photo of La Paz below). The choice of big peak will depend on current snow conditions on the mountains, and a final decision will be made when we are out in Bolivia.
Expedition members must be strong alpine skiers, able to ski black runs confidently and in full control. Previous touring experience and previous high altitude experience are also highly recommended (but neither is absolutely essential). However at least a little previous experience of using an ice-axe and crampons in a mountaineering setting is essential. We will take our own skis out to Bolivia, you can bring either alpine, telemark or splitboarding kit, but given the terrain we plan to ski on we strongly recommend Alpine touring kit.
Mururata, 5868m from the public transport teleferico in the suburb of El Alto, La Paz.
---
General Information about our holidays
Please read our warning on altitude before booking this expedition to high altitudes.
Who runs 'Andes' and where we are based
General information about equipment, accommodation, flights, meals etc.
---
Outline Itinerary

Days 1-2
Flight and day in La Paz.
Days 3-4
Optional excursions to Lago Titicaca, Tiahuanaco.
Day 5
Half day trip to Chacaltaya "resort" for acclimatisation.
Days 6-10

Ski exploration of the Khara Khota valley in the Cordillera Real.

Day 11
Rest in La Paz.
Days 12-14
Parinacota or Mururata ascent.... and descent!
Days 15-16
Return to La Paz and return home.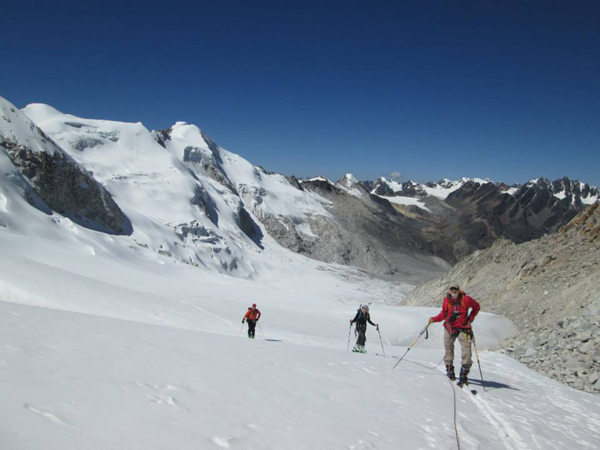 Skinning at 5300m on Jishka Pata in the Khara Khota valley. The peak on the left is another one we've skiied before, Janco Huyo, 5512m.
LA PAZ
La Paz is the capital of Bolivia and the world's highest capital city. The nearby mountains provide fresh air and the city has an agreeable climate. It gets warm in the sun during the day but, because of the altitude, quite cold every night. The main business district with its modern skyscrapers is set at about 3700m in the bottom of a canyon. The city stretches up and down the canyon from here; the rich live in the suburb of La Florida; the poorest people live on the steep sides of the canyon and in the district of El Alto at over 4100m above sea level.
TIAHUANACO & LAGO TITICACA
The ruins of Tiahuanaco make an interesting short day trip from La Paz which those who are interested can take during our first two days in the city. The ruins are from several different civilisations preceding the Incas; the site was first used almost three thousand years ago. Also possible is a full day tour to Lago Titicaca, famous as the world's highest navigable lake and certainly one of the most beautiful. The waters are clear and blue and there are fine views to the snow capped mountains of the northern Cordillera Real. You can take a short boat cruise on the lake to see some of the fishing boats and islands and have trout for lunch (this is almost unavoidable when you go to Lago Titicaca). If you are interested to do either of these optional tourist trips from La Paz please let us know and we'll make all the arrangements for you.
CHACALTAYA
The worlds highest ski 'resort' is the old rope tow and run-down cafe on the mountain called Chacaltaya just a few hours outside La Paz. If snow conditions permit we'll spend a few hours here refining our high altitude ski technique and also getting used to the Bolivian snow. If possible this will include the short ski to the summit of Chacaltaya mountain, 5395m. These days skiable snow is not all that common at Chacaltaya, in which case we'll do an acclimatisation hike to the top of the mountain.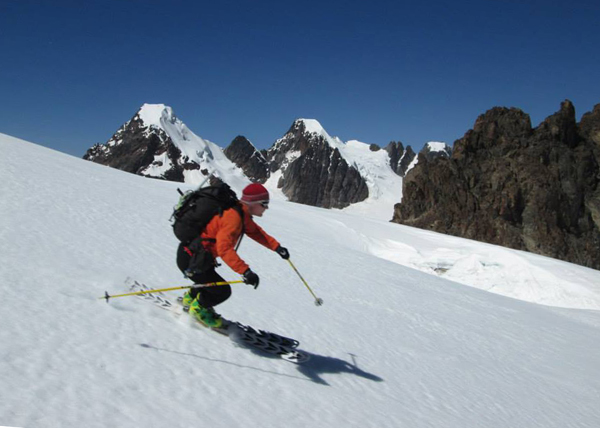 Skiing Culin Thojo in the Khara Khota valley.
KHARA KHOTA VALLEY
We have regularly visited the Khara Khota valley as an acclimatisation venue for our mountaineering trips to Bolivia and it makes a fine venue for a ski trip as well. The peaks are relatively near the roads, with just small glaciers, few if any crevasses and relatively "rolling" terrain. We may climb and ski several of the following peaks that surround the valley - Wila Llojeta 5244m, Janco Huyo 5512m, Jishka Pata 5508m. The exact choice will depend on where the best snow is lying and client fitness and acclimatisation. This part of the expedition is based in tents, approaching the mountains from a roadside base camp by either 4x4 or on foot. All the peaks involve at least a few hundred metres of ascent to reach the snowline.
VOLCAN PARINACOTA
Parinacota volcano, pictured below, is a beautiful symmetrical cone, covered in pure white snow. It is the worlds highest volcanic cone and one of the worlds ten highest volcanoes. At 6342m it is also one of the highest peaks in this part of the Andes and the views from the summit out across the 'Altiplano' and down into the deep volcanic crater are superb. We'll climb the mountain by the south or east flank (depending on the best snow conditions), crossing on foot over an extensive lava desert of pumice to a high camp near the snowline at 5500m. From here we will climb to the summit and ski back down in one long day.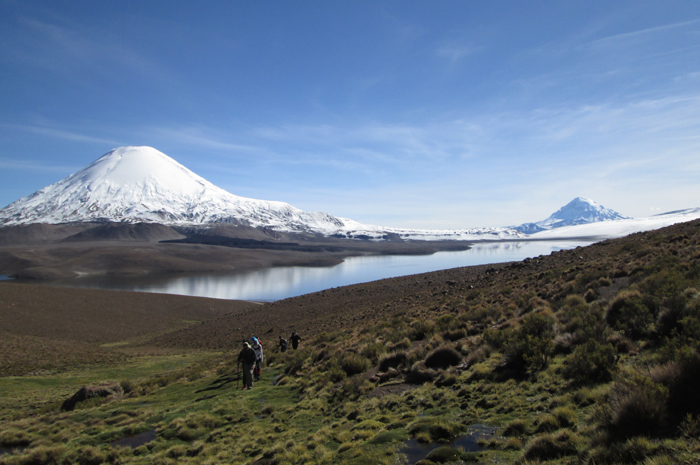 Volcan Parinacota form the west after a fresh snowfall.
.
MURURATA
Pictured above, Mururata, 5869m, is an alternative high peak that we may do if current conditions on Parinacota are not reported to be great. As it is a bit less steep it is more skiable when snow conditions in the mountains are questionable (either icy or high avalanche risk). We'll carry skis and camping kit to a high campsite at 4900m over two days, then have one or two days to ski the glacier and summit. The views of the steep north face of Illimani, and of the distant street lights of La Paz at night are very memorable.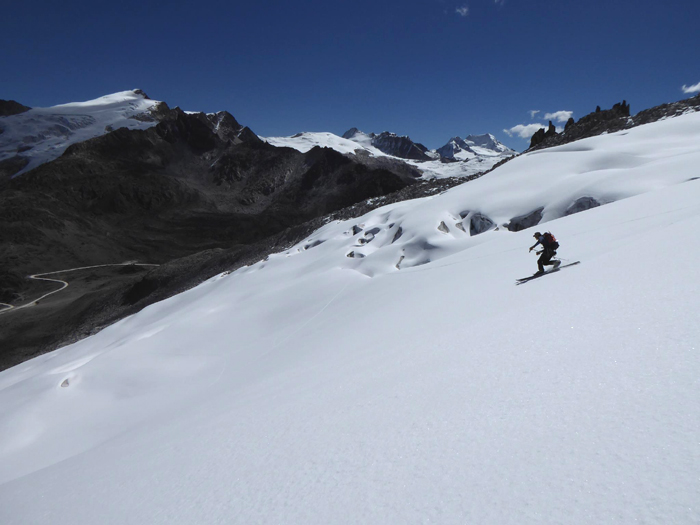 Skiing at 5000m on Wila Llojeta, Khara Kota valley Bolivia.
CLIMATE
This expedition is scheduled during the early part of the winter dry season in this part of the Andes and we can expect long periods of stable weather. However there can sometimes be windy days and light snow flurries. It is early winter in Bolivia; during the day it normally feels pleasantly warm in the strong sunshine, but at night temperatures at altitude go down to -10ºC during the 12 hours of darkness. Bring a warm sleeping bag and a good book!
EXPERIENCE AND FITNESS
Clients should be very experienced skiers and mountaineers. At least a little previous mountaineering experience, using an ice-axe and crampons, is essential. Expedition members need to be reasonably fit as we will be climbing and skiing at high altitudes. The ascent of Parinacota or Mururata in particular will place demands on your fitness - climbing above 6000m is always hard physical work and the summit day is likely to be over 10 hours long. However we should stress that you don't need to be an olympic athlete!
Cold nights, cold washing water and some tinned and dried food are a few of the experiences which will have to be enjoyed or endured. Because this is a tropical ski trip it definitely won't be "ski-in, ski-out" and we'll have to carry skis from the roadheads to the snowline on almost all of our peaks. Where possible we will make use of a 4x4, horses or mules to help with this.
INSURANCE, HEALTH & SECURITY
All clients must be insured for medical costs and repatriation in an emergency. We recommend having insurance for baggage, personal liability and cancellation as well. If you would like advice on insurance please ask. Bolivia is one of the poorest countries in South America and it is a good idea to avoid tap water, unwashed fruit, ice and all seafood. Vaccinations for tetanus, typhoid, polio and hepatitis are needed! Malaria and yellow fever precautions are not necessary as we won't be visiting mosquito infested areas. Bolivia is a friendly and relatively safe country to visit but it is important to stay alert when in busy public areas and to guard your belongings carefully. Muggings and violent crime against tourists are rare. We issue further advice on security to all clients before departure.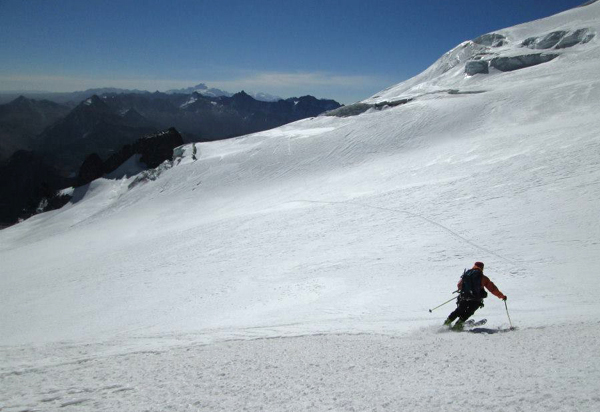 Skiing back down at 5400m on Mururata, 2014 Bolivian Ski Explorer expedition.
SAFETY AND RISK
This is an adventure holiday and all clients will be exposed to hazards not found in everyday life by taking part in this itinerary. While we take all reasonable precautions to reduce risk it is neither possible nor desirable to completely eliminate these hazards. It is important that you understand the hazards you may be exposed to before signing our booking form. We have identified the following areas as the principal additional risks of this itinerary. (Some of these could potentially result in serious injury or death). This is not a fully inclusive list - a more detailed risk assessment of this itinerary is available on our Risk Assessments page, or phone/e-mail us and ask some questions! .
Driving, hotels and general safety : In Bolivia driving, health, fire safety standards and general safety standards are not as high nearly as in Europe.
Crime : Bolivia has a higher crime rate than Europe. As a wealthy tourist you may attract attention.
Minor slips and falls : due to steep, uneven and unstable ground. There is a considerable risk of injury when skiing off-piste
Remoteness : You will be more than a days walk/drive from professional medical help for periods of time throughout the expedition. There is almost no chance of a helicopter rescue.
Altitude : At high altitudes there is an increased risk of medical problems, most obviously altitude illness.
Mountain Hazards : In certain places you may be subjected to a slight risk of rock slips. During and after stormy weather there may be a risk of avalanche. There is also a risk from crevasse falls on some of the ascents, particularly Mururata.
EXPEDITION ORGANISATION & LEADERSHIP
Our expeditions are designed to be small and flexible. The expedition will be co-ordinated, organised and lead by us, but we will consult expedition members when planning the details of the trip. We publish an outline itinerary so that we have a framework on which to build the expedition. Please note however that the leaders decision is final where the safety of the group or any member is in jeopardy; for example where retreat or diversion is necessary due to illness or bad weather. The maximum size of this expedition will be four persons plus leader. We need a minimum of three bookings to run this expedition.
WHAT'S INCLUDED IN OUR PRICE AND WHAT'S NOT INCLUDED
Our price is for leadership/guiding and mountain services only. It INCLUDES the leaders fee (wages) and all their expenses, such as flights, travel, hotels, meals, permits. It also INCLUDES his or her share of communal expenses, which may be such things as 4x4 rentals, diesel and fuel, mule and porter costs, shared hotel rooms.
Our price also INCLUDES all mountain services such as provision of tents, stoves and all other communal camping equipment, all mountain food including all camp food and lunches on day trips. It also INCLUDES any communal mountaineering equipment that may be necessary, such as ropes, karabiners, etc., and on most expeditions emergency use of satellite telephone link.
Our price does NOT INCLUDE - your flights, your insurance, your hotel/hostel accommodation, your meals taken at cafes and restaurants, your share of communal travel costs (e.g 4x4 rental, mule costs), your personal climbing, skiing and camping equipment (i.e. used by you alone, such as sleeping bag, harness, helmet), permits or peak fees payable by yourself.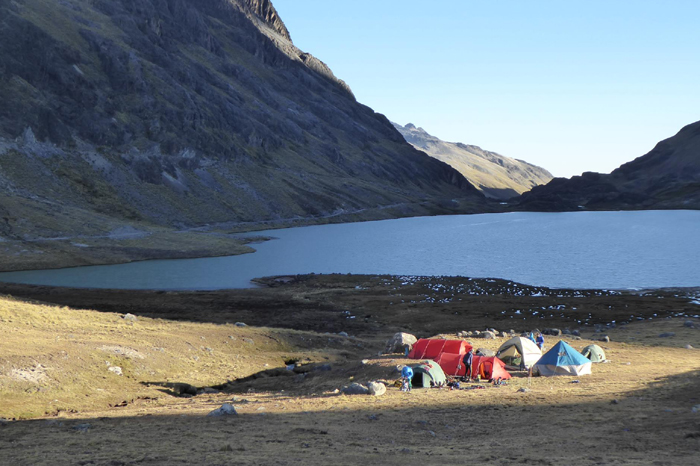 Scenic campsite in the Khara Khota valley, 2018 expedition.