Dates
September or October
Duration
14 to 16 days
Grade
1B
"Andes" Leadership Fee

about £2000
Ski Mountaineering in the Patagonian Andes of Argentina.
Likely to run again late September or early October 2019. Pleasee let us knwo if you are interested.
PRICES & COSTS
All are per person.
"Andes" Leadership Fee (includes leaders expenses) -- about £2000
Estimated Airfares -- £1200
Estimated Travel Costs in Argentina -- £600
Estimated Accommodation & Meals -- £800
ESTIMATED TOTAL COST per person -- £4600
---
INTRODUCTION
This ski-mountaineering expedition is based around ski itineraries we have organised to Argentina in 2006, 2009 and 2012. The expedition will take the form of a road trip into some fairly remote mountains in northern Patagonia with a final option to ski Volcan Domuyo, 4709m, the highest peak in Patagonia. On the way we'll be stopping in several different areas to make shorter day trips and easier ski ascents, many of them on volcanoes. This trip is suitable for those skiers who are new to ski touring, and requires little or no previous mountaineering experience. However good fitness and previous experience of wilderness camping is recommended for the optional ascent of Volcan Domuyo.
We'll start the expedition with a few days based in the city of Bariloche where we will ski a couple of "warm-up" peaks and have at least one day at the nearby resort of Cerro Catedral if it is still open. The ski peaks here are generally pleasant day ascents through trees and out on to the tops with great views of Bariloche town and Lago Nahuel Huapi. We'll then head north to Volcan Copahue, a 3000m+ peak on the border with Chile that has a spectacular summit crater. Next on the agenda is a ski ascent of the 3978m high active volcano Volcan Tromen. Finally we have an optional three day ascent of the highest peak in Patagonia, Volcan Domuyo. This involves two nights in a high camp at 3500m, and a long, scenic summit day ski. For anyone choosing just to do the main trip camping is not necessary.
This itinerary will be deliberately kept flexible to make the best use of weather and snow conditions. The balance of time we spend in the different mountain venues and the choice of tours will ultimately depend on current snow and weather conditions, and particularly the state of the access roads.
A similar trip is our Chilean Ski Explorer which we have run successfully for many years, and which is currently scheduled for October 2018.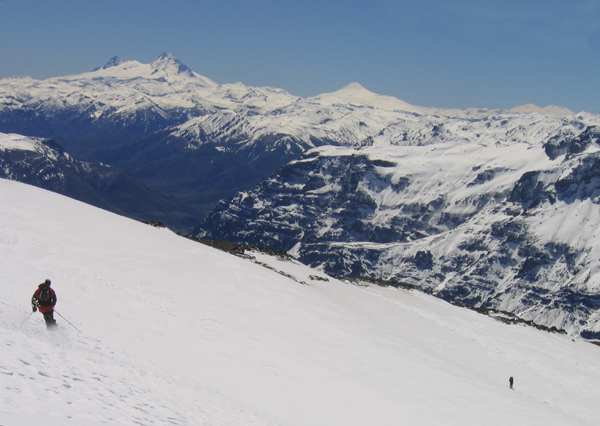 Skiing from the summit of Volcan Copahue on the Chile-Argentina border.
Outline Itinerary

Day 1-2
Flight to Bariloche
Day 3-4
Ski tours and possible resort day at Bariloche
Day 5
Rest and drive north
Day 6-9
Ski tours and ascents of Copahue and Tromen
Day 10
Rest and drive to Volcan Domuyo
Day 11-14
Optional Volcan Domuyo ascent
Day 15
Long return drive to Bariloche
Day 16
Flights home from Bariloche
---
General Information about our holidays
Please read our warning on altitude before booking this expedition to high altitudes.
Who runs 'Andes' and where we are based
General information about equipment, accommodation, flights, meals etc.
---
BARILOCHE & CERRO CATEDRAL
Our first two days will be based in the small and pleasant city of San Carlos de Bariloche, which lies on the shores of Lago Nahuel Huapi in northern Patagonia. Located nearby is one of South Americas largest ski resorts - Cerro Catedral. If the resort is still open when we arrive we'll start with a day of piste skiing here. The resort normally closes sometime in the second half of October, depending on snow conditions each year. For more information on the Cerro Catedral resort, plus a piste plan, please click here.
The mountains near to Bariloche also have some good ski-mountaineering terrain and we'll do a day or two skiing in them before heading out on our road trip. This area is quite different to the drier desert terrain further north, with most ski ascents starting in thick evergreen beech forests. Peaks we'll ski here are a bit lower than the main summits we plan to ski,, reaching no more than about 2000m or 2300m.
VOLCAN COPAHUE
Volcan Copahue is an active volcano on the border with Chile that makes an interesting one day ascent from the nearby ski resort of Copahue/Caviahue. There is a spectacular sulfurous crater lake to one side of the summit plateau with a 100m high overhanging glacier wall above it. The volcano was erupting in 2016, and obviously we'll have to take the current state of Copahue into account when making the ascent!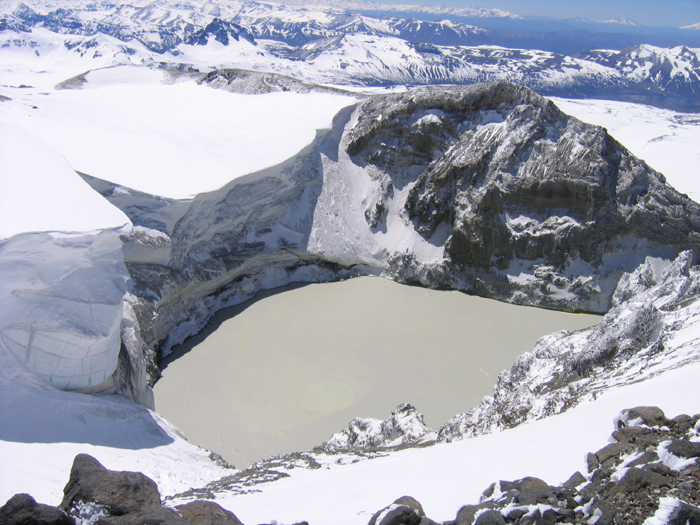 The massive and impressive glacial lake in the crater of Volcan Copahue.
VOLCAN TROMEN
Volcan Tromen lies about 4 or 5 hours drive north of the Copahue ski area. This active volcano lies entirely in the province of Neuquen and is just north of the town of Chos Malal. We'll approach Tromen from the south and ski by the western slopes, choosing the best line according to snow conditions, but probably departing from the road end at Laguna Tromen at just over 2000m. This ascent will almost certainly be our longest summit day.
VOLCAN DOMUYO
Back in 2006 an ANDES expedition was the first ever team to ski from the top of Volcan Domuyo, the highest peak in Patagonia. The ascent of Domuyo takes three or four days from the small tourist resort of Aguas Calientes, with a high camp by a small lochan at 3500m. One highlight of the trip is crossing a deep and fast flowing stream of hot water that comes from residual volcanic activity on the mountain. Summit day is long, but last time we were here the views and then the ski descent were both excellent.
This part of the expedition involves two (or possibly three) nights camping and some pack carrying. The whole experience of climbing and skiing Domuyo is a great mini-adventure which we would strongly recommend. However it will be possible to modify this section of the itinerary if you do not wish to camp or carry a large pack - please phone or email to discuss other options.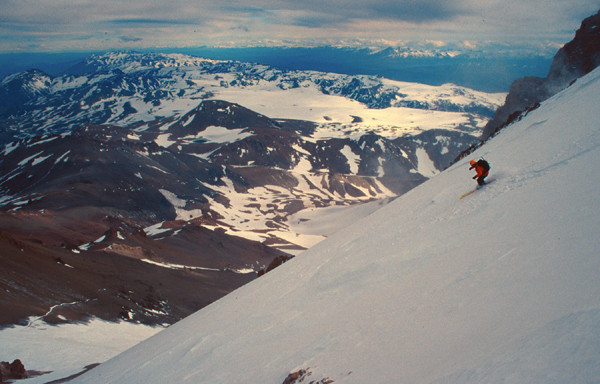 Skiing off the summit of Volcan Domuyo, November 2006.
FITNESS & EXPERIENCE NECESSARY
Expedition members should be fit and competent alpine skiers. Due to the nature of the terrain Alpine touring kit is strongly recommended. The minimum skiing ability necessary is being able to descend red runs in control at a reasonable speed. Winter skills including the use of an ice-axe and crampons may be needed during the ascents but as we will be on relatively easy snow slopes it is not essential to have these skills before joining the expedition.
A good standard of hill fitness is also essential for this expedition, particularly for Volcan Domuyo where we will have to carry full camping packs for 4-5 hours to reach our high camp. However it will be possible to modify this section of the itinerary if you do not wish to camp or carry a large pack - please phone or email to discuss options.
CLIMATE
Argentine Patagonia generally has very stable winter and spring weather more like the continental USA than the European Alps. Windy days are perhaps a bit more common than in either of these places. However as this is still the tail end of winter there is obviously a chance of some bad weather and/or a snowstorm while we're there.
INSURANCE, HEALTH, HYGIENE AND SECURITY
All clients must be insured for medical costs and repatriation in an emergency. We recommend having insurance for baggage, personal liability and cancellation as well. If you would like advice on insurance please ask. Please bring an extra copy of your insurance certificate with you on the expedition for the leader. Argentina is one of the most well developed countries in South America and the standard of hygiene is generally as good as at home. You would be unlucky to get an upset stomach or diarrhoea. Vaccinations for tetanus, typhoid and polio are recommended. The country is very safe and relaxing to travel in; theft and muggings are as unlikely as they are in most British cities. Everyone who visits Argentina is surprised by how much like a part of Europe the country is.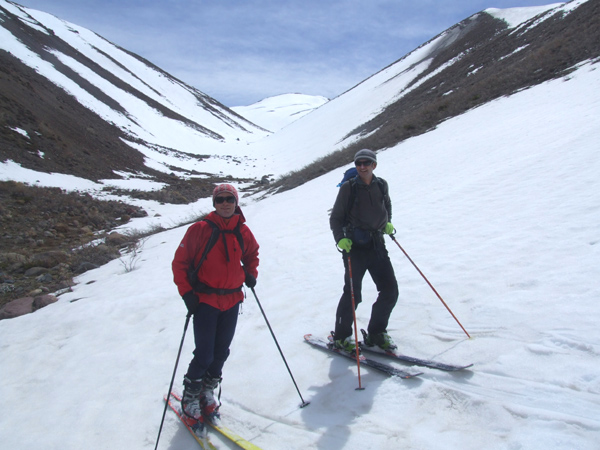 Big smiles after the best run of the trip... "ANDES" 2009 Argentina Ski Mountaineer. After a 900m descent on perfect steep spring snow it was just a 10 minute walk back to our mountain hut.
SAFETY AND RISK
This is an adventurous trip and all clients taking part in this itinerary will be exposed to hazards not found in everyday life. While we take all reasonable precautions to reduce risk it is neither possible nor desirable to completely eliminate these additional hazards. Some of these hazards carry the risk of serious injury or death. It is important that you understand the risks you may be exposed to before signing our booking form. We have identified the following areas as the principal additional risks of this itinerary. This is not a fully inclusive list - please ask if you would like to see a more detailed risk assessment of this itinerary before booking.
Driving, hotels and general safety : In Argentina driving, hotel fire safety standards and general safety standards are not as high as in Europe.
Remoteness : You will be more than a days walk/ski from medical help for some of the time, especially on Volcan Domuyo. There is no chance of a helicopter rescue.
Mountain Hazards : Off-piste and in the mountains there may be considerable danger of avalanches, as well as other mountain dangers arising from bad weather and minor slips and falls on steep and/or icy terrain.
Weather : These mountains are affected by bad weather at times.
ORGANISATION & LEADERSHIP
Our expeditions are designed to be small and flexible. The expedition will be co-ordinated, organised and lead by us, but we will consult and involve the expedition members when planning the details of the trip. Please note however that the leaders decision is final where the safety of the group or any member is in jeopardy; for example where retreat or diversion is necessary due to illness or bad weather. The minimum number of customers we need to run this holiday is three. The maximum size will be four customers plus leaders. This trip will be led by John Biggar, who holds the MIC mountaineering award, has completed his BASI level 1 and has over 300 days ski-touring experience in the Alps, Andes, Caucasus, North America, NZ and the Pamirs.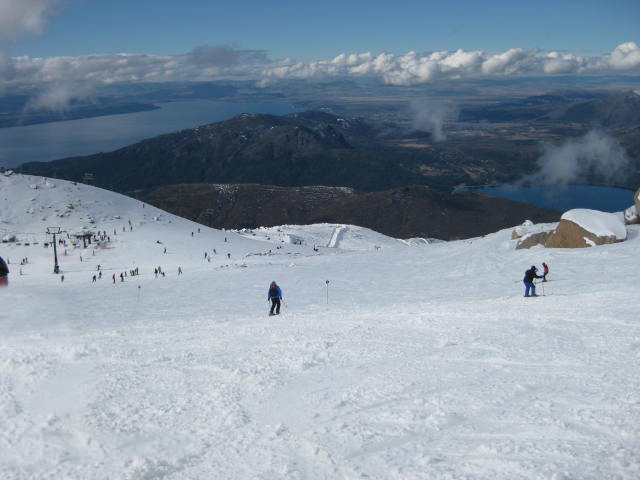 Skiing at Cerro Catedral resort near Bariloche in September 2012.