Rock Climbing in Argentina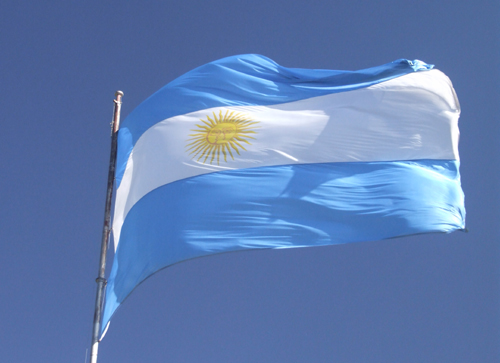 There is a vast amount of rock in Argentina, particularly in the west of the country, which in many ways resembles the western United States of America. However to date only a few small areas near some of the larger towns such as Mendoza and Bariloche have been explored. Further south in Patagonia there is some climbing around Esquel and of course on the famous granite peaks of Cerro Torre and Fitzroy. The potential for new routes almost all over the Argentine Andes is enormous.
---
Mendoza Area
There are several good areas reported near Mendoza including Arenales near Tunuyan and some smaller climbs out at Potrerillos. I haven't yet climbed at any of these.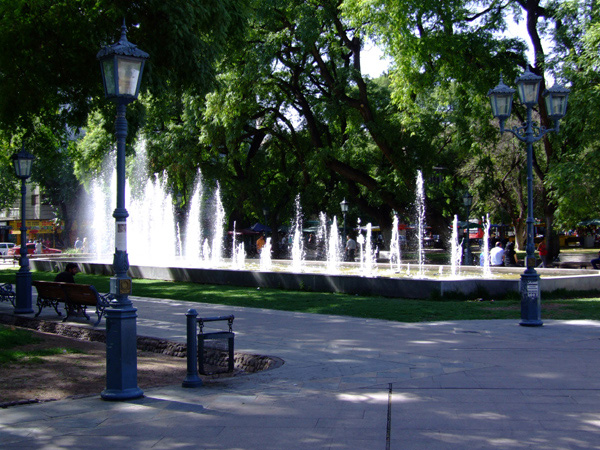 Mendoza
---
Bariloche Area
There are several very good areas near Bariloche in northern Patagonia. Described and pictured below are three of these, Valle Encantado, Catedral and Piedra Parada.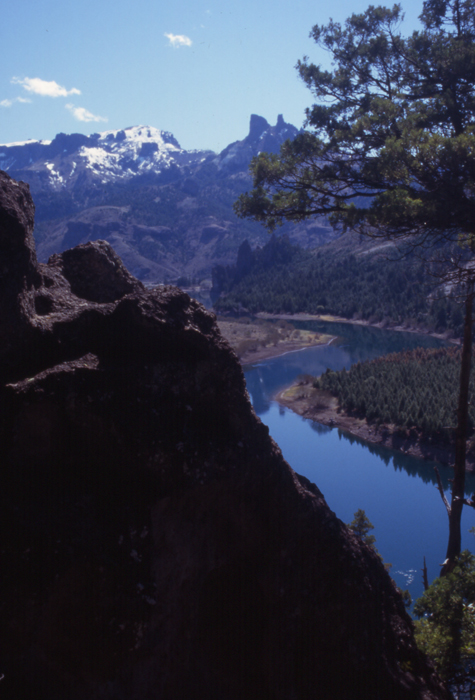 The picture above is a general view of Valle Encantado, a really beautiful spot by the highway about one hour from Bariloche towards Neuquen. Lots of easily accessible climbs on the west bank of the river, many of them really near the road, and lots of less accessible climbing on the other side of the river (take a boat!). Best time of year is probably late spring - October to December, but it really doesn't get too hot here in summer either and there is plenty of shade.
Located near the city of Bariloche, a well developed area. Rolando Garibotti has produced a great local guidebook, giving details of hundreds of sport routes on the walls and ascent routes for the many pinnacles. Best time of year is mid-summer, January and February.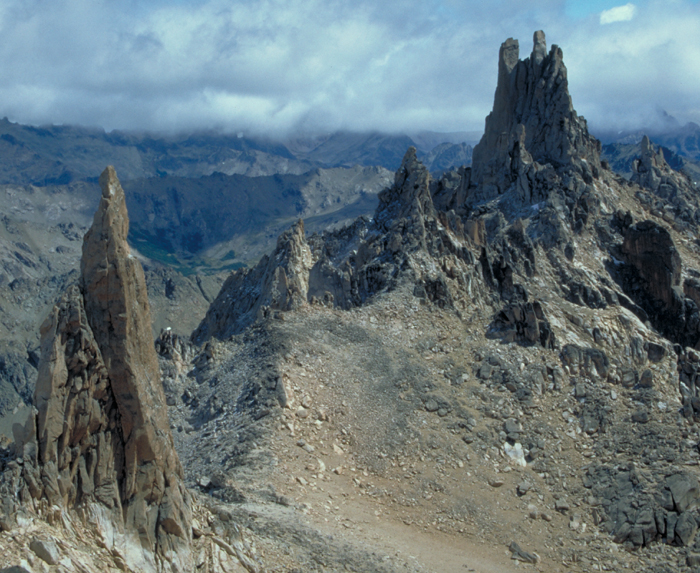 Campanile Esloveno (Left) and the highest peak of Catedral (Centre Right), Catedral Range, Argentina
---
Esquel Area
Located just two hours from the town of Esquel in northern Chubut (and four or five from Bariloche) is the very scenic climbing area of Piedra Parada.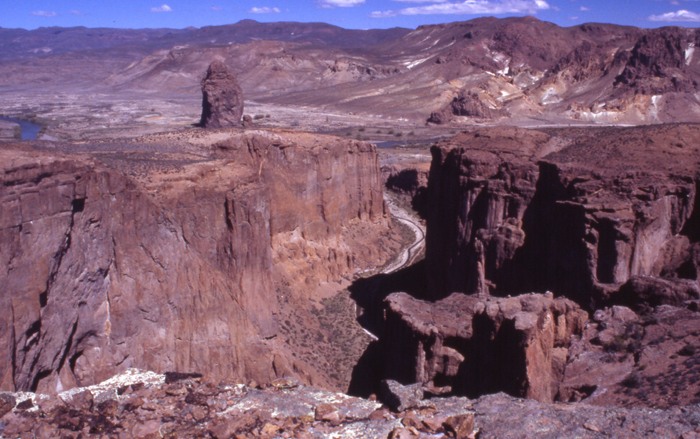 A general view of the Piedra Parada area in Chubut - the big pinnacle at the back is the Piedra Parada itself - an awesome chunk of rock nearly 250m high that overhangs on all sides. Easiest route up this is a 6b line around the crack on the northeast side, but in fact the climbing is not all that good.
Much better is the Canon de las Buitreras (seen in the foreground) a most impressive narrow canyon with good climbing in many areas, the majority of it single pitch sport routes but with some pretty big and adventurous stuff too.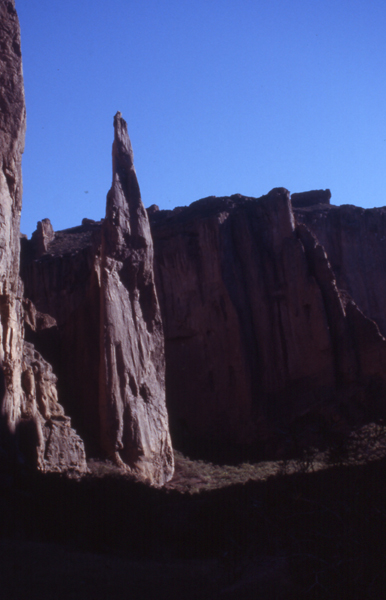 This 300m tall pinnacle in the Canon de las Buitreras has been climbed on aid, the free ascent will go at about 7a/7b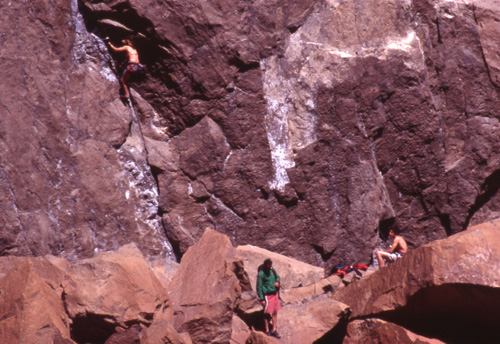 Climbing in the Canon de las Buitreras
Best time of year to climb here is spring (October and November) it can definitely get too hot in summer, though there is nearly always some climbing in the shade. Access to the Piedra is quite easy - its right by the road, access to the canyon is a bit more tricky - you have to get across the Rio Chubut first, it is possible in autumn to do this with a 4x4, but the rest of the year you'll need a boat!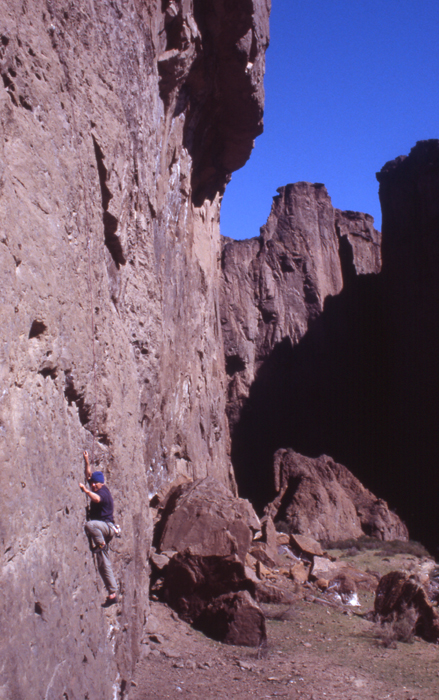 ---
Southern Argentine Patagonia
Big serious routes on hundreds of famous peaks, including Fitzroy, Cerro Torre, The Torres del Paine, Cuernos del Paine, Fortaleza and Escudo. There are no shortage of things to go for, but bad weather and iced up routes make this considerably more serious than the cragging destinations described above.
Fitzroy at sunrise from the east.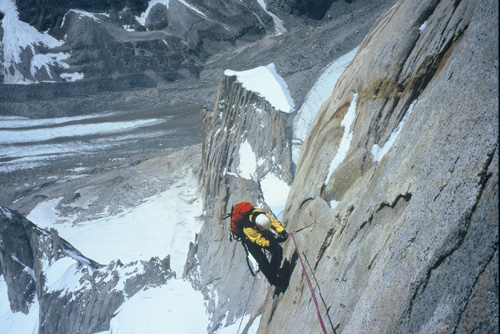 High on the compressor route on Cerro Torre before the bolts were chopped - photograph courtesy of Pere Vilarasau, www.infinito-sur.com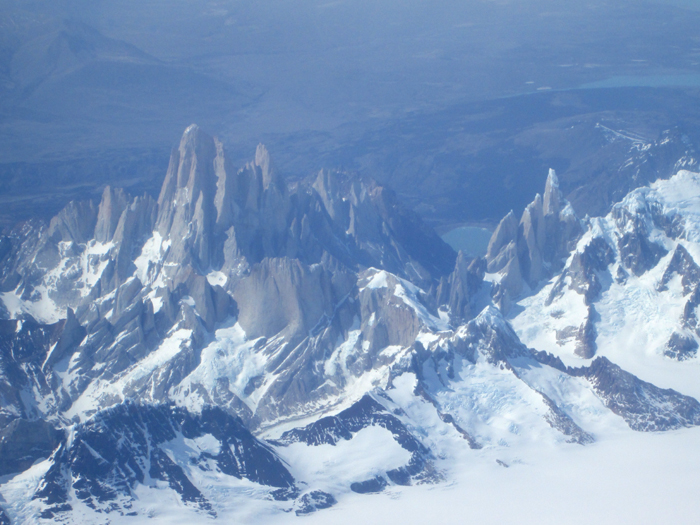 An aerial view of Fitzroy and Cerro Torre on the edge of the south Patagonian ice-cap.
---
Guidebooks
The following guidebooks are all reasonably easy to find (once you get to South America!!) and are reasonably accurate and useful.
Argentina
Escaladas en Mendoza - rock and ice - (Spanish and English) A nice modern lookign guidebook to Arenales, Vallecitos and other nearby areas. by Mauricio Fernandez
Guia de Escaladas - Cerro Catedral (Spanish) by Rolando Garibotti.
Cerro Otto - Guia de Escaladas (Spanish)
Patagonia
Patagonien (German or Italian editions) by Gino Buscaini and Silvio Metzetlin
Cuadernos de Alpinismo - Chaltel (Spanish) Ed. Pyrenaica
Patagonia Vertical - Rolando Garibotti, Sidhartha press