Siula Grande 6344
You have reached the Andes website. If you want to navigate around the site and see more great pictures of the Andes we recommend you go first to the index page for this website.
The second highest peak in the Cordillera Huayhuash and a very difficult ascent by the normal route on the north ridge. This is the peak on which Joe Simpson fell into a crevasse on while being heroically lowered through the night by his climbing partner Simon Yates following a serious leg injury at about 6000m..... read all about it in the book, 'Touching the Void'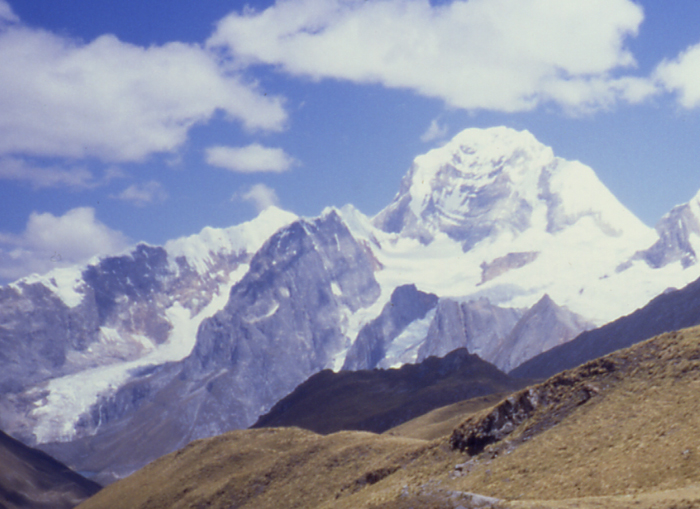 Siula Grande from the northeast.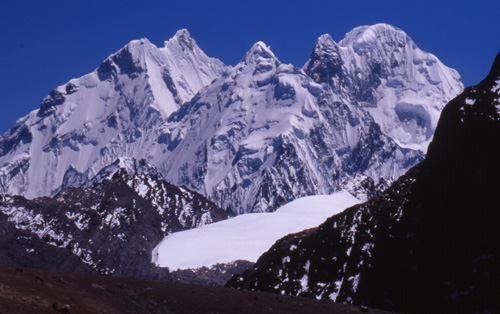 Yerupaja and Siula Grande from the Punta Cuyoc to the south
We can organise guided treks to the foot of Siula Grande. For details of how to climb Siula and neighbouring (mostly easier!! ) peaks in the Cordillera Huayhuash please see our guidebook available in English, Spanish, Polish and French editions. Siula Grande is in fact featured on the cover of the third edition of 'The Andes - A Guide for Climbers. This guidebook is now available in good outdoor shops and bookshops or directly from us - click here for more details.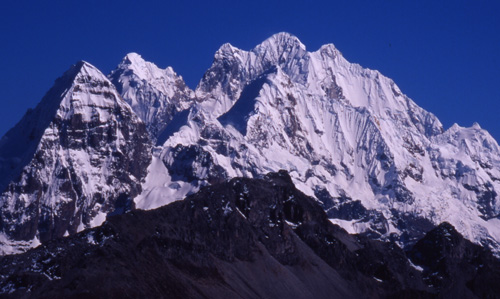 The high peaks of the Huayhuash including Yerupaja and Siula Grande from Leon in the Cordillera Raura.
---