Sierra Nevada de las Lagunas Bravas 6140m
West summit 6135m
Cumbre del Laudo 6122m
A high peak on the border just north of Ojos del Salado. The height used here is based on the latest SRTM data.
There are three main summits in this long and fairly "flat" volcanic chain. The first ascent of the highest central summit appears to have been made as late as 2014. Cumbre del Laudo is a subsidiary peak to the east. The first ascent of the west peak, which lies on the border with Chile, was made by the American Robert Ayers and others in December 2000 using the route description in the 1999 edition of our "Andes" guidebook - a world first as far as we know!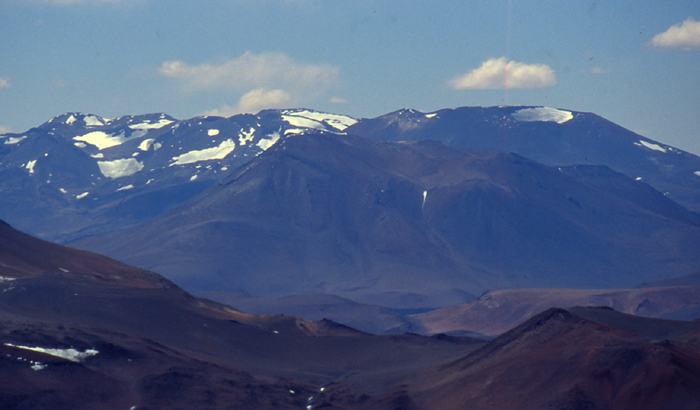 Sierra Nevada de las Lagunas Bravas from the south, the highest summit is just left of the centre of the foto. The West summit, on the Chilean border, is at the left hand end of the long summit plateau. Cumbre del Laudo is on the centre right of the photo.
We can organise guided ascents of this peak. For details of how to climb it and neighbouring peaks in the southern Puna de Atacama and Agua Negra area please see our guidebook available in English, Spanish, Polish and French editions, direct from us or from all good bookshops and mountaineering shops.
---