Chachani 6075m
Nevado Chachani is a large extinct volcano which rises above Arequipa in southern Peru. Possibly one of the easiest 6000m peaks in the whole world to climb. The height has traditionally been given as 6057m, including by ourselves and in our guidebooks. But after several recent ascents with hand-held GPS measurements, and looking back over the SRTM data I feel a height of 6070m-6080m is more realistic. It may be that 6057m is a transcription error.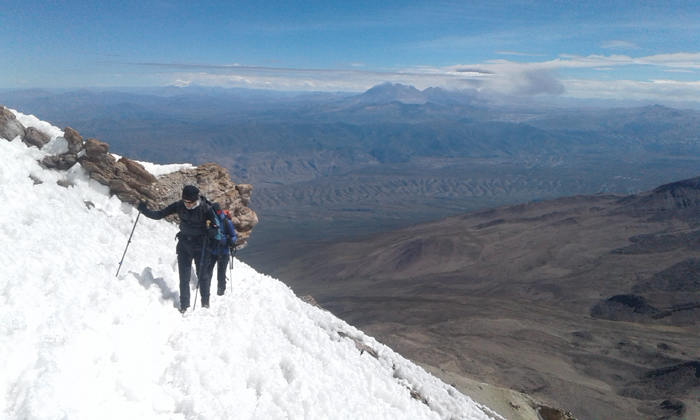 Traversing a penitente snowfield at 6000m on Nevado Chachani.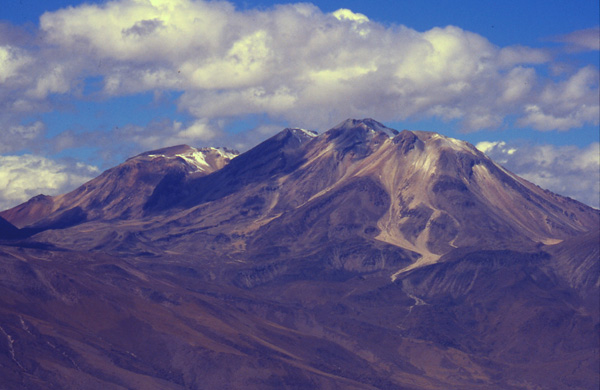 An aerial view of Chachani, with very little snow, from the northwest showing the top part of the ascent route.
CORRECTION TO ENTRY IN 4th EDITION OF "THE ANDES - A GUIDE FOR CLIMBERS"
A new route up the N slopes is now more commonly used, and will certainly be better if there is much snow on the peak. Drive to a 4x4 base camp at 5050m in a col N of the peak, from here walk W (almost level) for 1½h. to an advance base camp beneath the N side of the peak. Then easily up a good zig-zag footpath to the summit, normally only a little snow at 5900m+. KEY WAYPOINTS Parking 16º10'03" 71º30'45" Advance Base 16º10'38" 71º31'52" 5800m 16º11'21" 71º32'10" Summit 16º11'43" 71º31'55"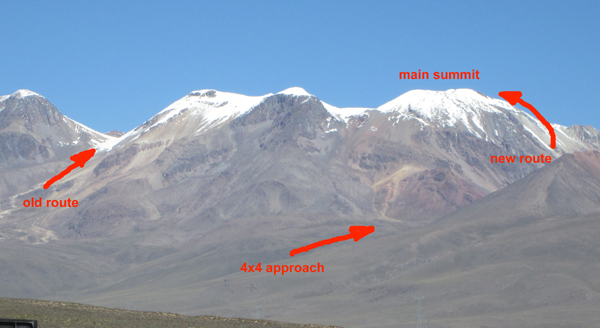 This diagram shows Chachani from the North, and the new route on the NW slopes.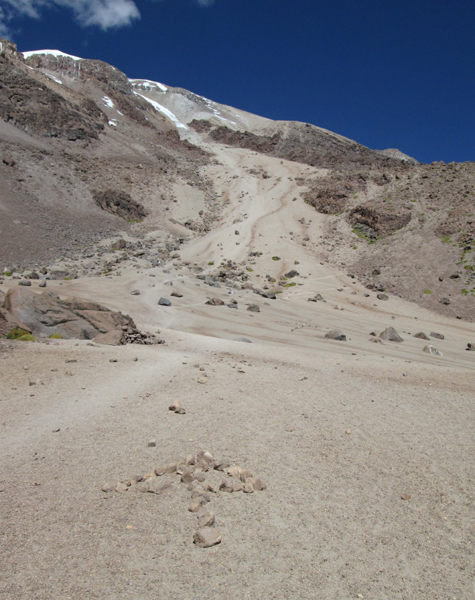 Chachani - looking up the route from the 5100m base camp.
We have climbed Chachani before and can organise more guided ascents of this peak. For details of how to climb Chachani and the neighbouring peaks of Misti, Ampato and Coropuna, please see our guidebooks, which are available in English, Spanish, Polish, Czech and French editions, direct from us or from all good bookshops and mountaineering shops.
---