Bonete Norte (Pioneros) 6240m
Sargento Federico 6185m
Bonete6144 6175m
Bonete6092 (Bicentenario) 6092m
These four peaks are part of the Cordon de los Pioneros which lies immediately north of Bonete, the fourth highest peak in the Andes. They are all easy ascents, easiest access from the west side.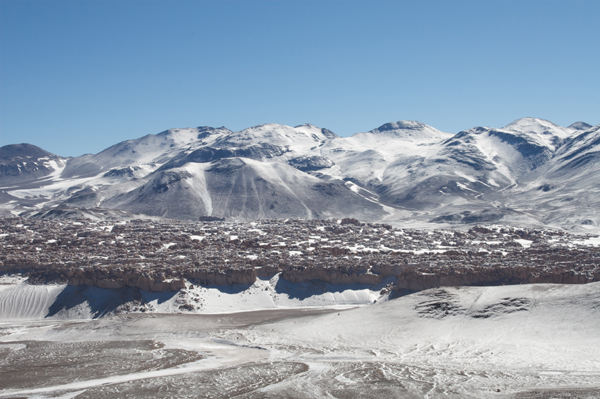 The Cordon de los Pioneros from the slopes of Baboso to the west. Bonete Norte, aka Pioneros, the highest peak, is at the centre-left and is slightly further away from the camera, Sargento Federico is the peak standing out most clearly centre-right, and Bonete 6144 (actually more like 6175m high) is the peak on the far right. Bicentenario or Bonete 6092 is the peak on the extreme left, only partly visible.
We can organise guided ascents of these peaks and indeed made the first recorded ascents of several of them in November 2011. For details of how to climb Bonete and neighbouring peaks please see our guidebooks, which are available in English, Spanish, Polish and French editions, direct from us or from all good bookshops and mountaineering shops.
---