Mulas Muertas 5921m
A very high volcano that is often climbed in one long day from the Laguna Verde base camp on Ojos del Salado. it makes a fine acclimatisation peak with great views of the route on Ojos. The height used here is from a handheld GPS reading taken in 2015. The often quoted height of 5897m is likely too low, digital elevation data also supports a height of 5910m+.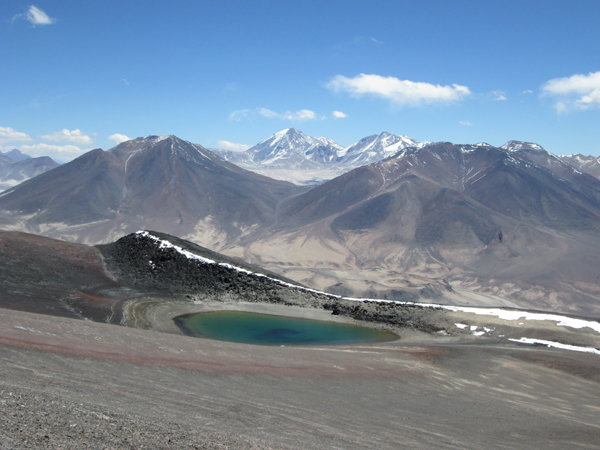 The crater and crater lake on Mulas Muertas. In the background are Vicuņas, Tres Cruces Sur and Central (further away) and Barrancas Blancas.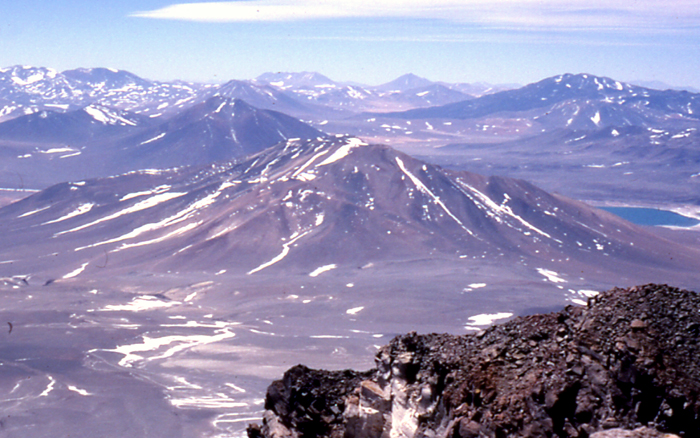 Mulas Muertas seen in the foreground from the summit of Ojos del Salado. just to the right you can make out the Laguna Verde.
We can organise guided ascents of this peak. For details of how to climb Mulas Muertas and neighbouring peaks please see our guidebooks, which are available in English, Spanish, Polish and French editions, direct from us or from all good bookshops and mountaineering shops.
Back to Chile and Argentina Info
---