Extensions to Cuzco, Machu Picchu and the Inca Trail - 2016
This page gives details of the extension options we can provide if you want to extend your trip in Peru to see the tourist highlights of Cuzco and Machu Picchu. This extensions can normally be arranged either before or after your trek or climb with us. Please email or phone for more specific information.
Please note due to new regulations we now require at least three months notice to arrange Inca trail extensions (option A below)
---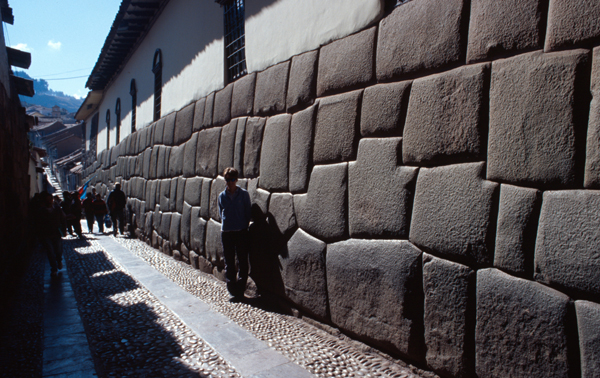 Inca stonework in Cuzco
The former capital of the Inca Empire, Cuzco is one of the world's most fascinating cities. Many ruins from the days before the Spanish conquest of Peru are still visible in the city and surrounding foothills. There are countless examples of the Incas incredible skill as stone-masons. Huge granite blocks fit so well that a knife cannot be inserted between them. There are also some beautiful buildings in the city built by the early Spanish colonists, including the Cathedral and buildings around the main square.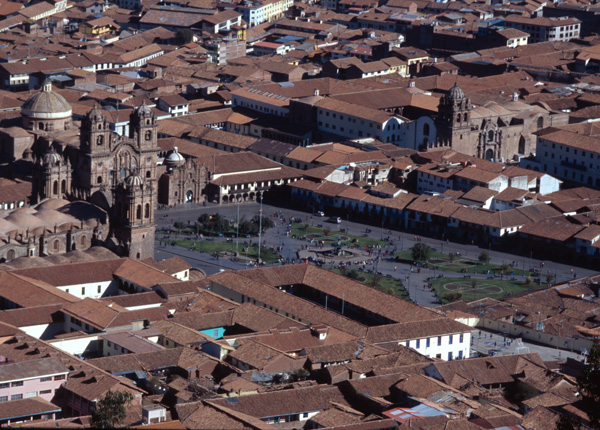 Aerial view of the Plaza de Armas in Cuzco.
There are many fascinating things to see and do in and around Cuzco. The highlight for many is probably the ruins of the magnificent toothed fortress of Sacsayhuaman which sits on a hillside above the city and is a rival even to Machu Picchu. There are also many interesting markets both in Cuzco and nearby towns like Pisac and Ollantaytambo.
---
Machu Picchu (pictured below) was rediscovered by Hiram Bingham early this century when he was looking for a fabled 'lost' Inca city in the deep valleys around Cuzco. This is the most famous ruin in South America and not without reason. The setting is superb. Machu Picchu sits on a mountain ridge, high above the deep gorge of the river Urubamba and surrounded by thick forests. The ruins themselves are extensive with many houses, temples and fortifications. We could fill a whole dossier just describing the ruins but it wouldn't do them justice - it's better just to go and see them yourself. The exact reason the Incas built Machu Picchu is not known (because they left no written records) but it was clearly a site of ceremonial importance. We will have a whole day at the ruins. Entrance fee is included in the expedition price.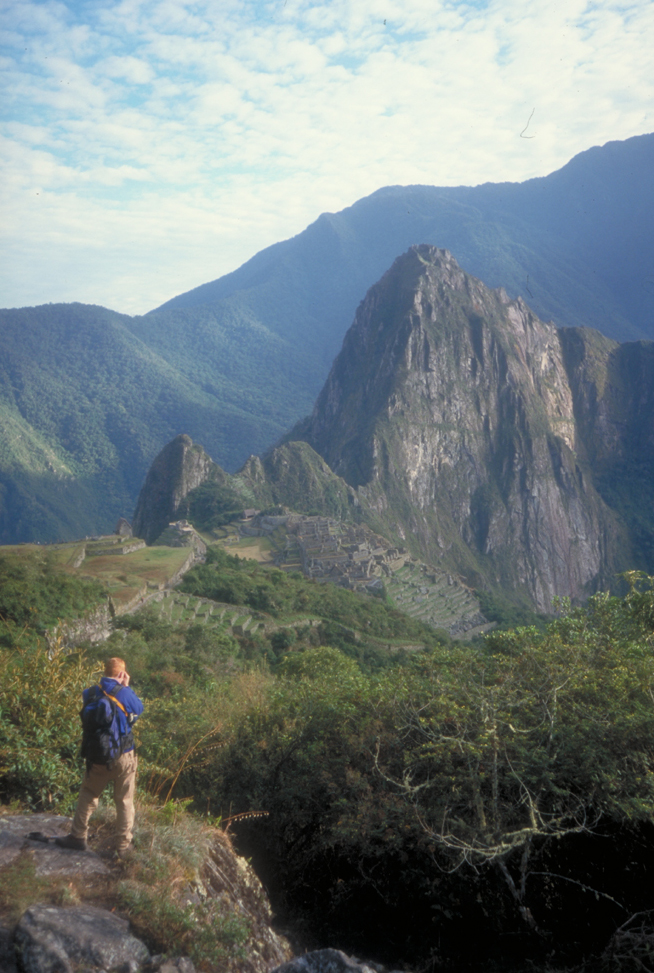 The classic view of Machu Picchu from near the gate of the sun, Intipuncu
---
THE INCA TRAIL TO MACHU PICCHU
The most spectacular way to arrive at Machu Picchu is undoubtedly the way the Incas designed the city to be approached. The Inca Trail to Machu Picchu is a four day walk along beautifully engineered Inca 'roads' crossing several high passes up to 4200m above sea level. The Inca 'roads' include long flights of steps, traverses above deep ravines and tunnels cut through solid rock. On the way to Machu Picchu the scenery becomes increasingly spectacular with views to Salcantay and other snow capped peaks. The trail also passes many impressive ruins from the time of the Incas, some still half hidden in the thick forest. On the very last day you get our first view of Machu Picchu from the pass known as Intipuncu - the Gateway of the Sun.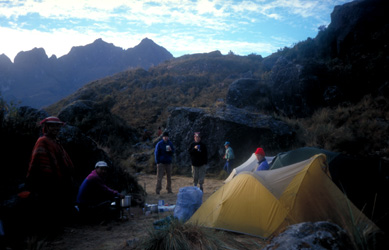 Sunrise on the Inca Trail
Sadly due to pressure of visitor numbers a quota system is now in place and it is not possible to trek the trail alone or in a small group. All bookings must now be made through a licensed operator and we need three to five months notice to be sure to get you a space, depending on the season and availability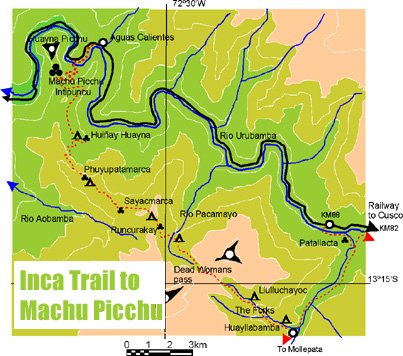 ---
We can arrange two main options, though please feel free to discuss your requirements if neither of these is quite right for you. Option A is a full service option payable to the operator in Cuzco, usually in cash, although we can help you to arrange a bank transfer as well. If you're taking Option B we'll reserve a hotel for you free of charge, but you'll have to pay all costs locally yourself to various different organisations and agencies.
Option A
Cuzco Sightseeing and Inca Trail to Machu Picchu
Day 1 --- Fly to Cuzco and afternoon sightseeing. Night in hotel.
Day 2-4 --- Walk Inca Trail as part of a group, fully supported i.e. permit, guide, tents, cook, food, porters.
Day 5 --- Arrive Machu Picchu early, most of the day at ruins, return to Cuzco hotel.
Day 6 --- Onward flight, around mid-day.
Price approximately £800 payable locally, plus the cost of your flights (or other transport) to Cuzco, meals, snacks and drinks in Cuzco and various entrance fees to museums in Cuzco
Option B
Cuzco/Machu Picchu -- Self Organised sightseeing only
Day 1 --- Fly to Cuzco and afternoon sightseeing. Night in hotel.
Day 2-3 --- A second day in and around Cuzco and then a full day trip to Machu Picchu. Cuzco hotel both nights.
Day 4 --- Onward flight, around mid-day
Costs, payable directly in Cuzco Hotel will be about £50 per person per night, an organised day sightseeing trip to Machu Picchu will cost you about £150, including transport and all entrance fees. Total costs about £300 per person plus flights to Cuzco, all your meals, and various entrance fees to archaeological sites and museums in Cuzco.
Return flights to Cuzco from Lima cost about £200- £300 in summer 2015.