Dates
19th January - 4th February 2018

(to 14th February with Aconcagua extension)

Duration
17 days (+10 days)
Grade
1C
"Andes" Leadership Fee (includes leaders expenses)

£ 1995
Easy Mountaineering in Argentina with an option to climb Aconcagua.
There is just one space remaining on this unique expedition. The Aconcagua extension which runs with a lower guide:client ratio, is already full.
We have another "First Ascents in Argentina" planned for December 2018 to an area further north in Argentina.
The title picture is of the 6046m high peak called Medusa Northeast. When an ANDES expedition made an ascent of this peak in January 2010 it turned out to be an unclimbed 6000m peak.
PRICES & COSTS
All are per person.
"Andes" Leadership Fee (includes leaders expenses) -- £ 1995
Estimated Airfares -- £1000
Estimated Trek & Travel Costs in Argentina -- £300
Estimated Accommodation & Meals -- £200
ESTIMATED TOTAL COST per person -- £ 3500
Aconcagua Extension - Full - £1295 -- (plus Permit at £500, Hotels & Meals at about £200, Trek costs at about £400)
ESTIMATED TOTAL COST per person with Aconcagua Extension -- £ 5900
---
INTRODUCTION
In January 2010 and December 2011 we made a number of first ascents of 6000m peaks in the high Andes of the Puna de Atacama, as reported in the Alpine Journal and American Alpine Journal 2012 (see bottom of page for extract). These were very successful expeditions with many clients making many summits. We are heading back to the same general area in January 2018, but obviously to a different (probably) unclimbed summit. This is an area of the Andes we know exceptionally well, having run many successful trips in the past twenty years.
We will fly out to Mendoza and then be based north of the city for the main 17 day itinerary. The itinerary will include climbs of an unclimbed peak in the 5500-6000m range as well as an ascent of a nearby 6000m+ peak. The ascent(s) will take about 3 to 5 days from roadheads at about 3000-3500m. We'll have private transport in a 4x4, for travelling from Mendoza and for getting to the roadheads. Research on the internet and in all the regular mountaineering journals shows no indication that the main target unclimbed peak has been summitted previously, but we can't guarantee this. We have certainly picked good target peaks for First Ascents many times in the past (see our Firsts page for further details).
With this 2018 expedition we are offering an optional extension to climb Aconcagua, the highest peak in the Andes at 6959m. It lies entirely in Argentina near the city of Mendoza. We will make a (relatively) rapid ascent by the normal route, since we will arrive at the peak with good acclimatisation. This extension will be a further 10 days long including travel time and a rest day. For more details scroll down or click here.
Like most of the peaks in this part of the Andes the ascents will not involve any technical climbing. They will be simple walks over rough ground and perhaps some boulders. The ascents on the main expedition are suitable for strong hillwalkers. Previous expedition experience is not essential but it is preferred due to the possibility of tough weather and camping conditions. Aconcagua is similar, with no technical terrain, but with even tougher weather and camping conditions and higher altitudes, some previous high altitude expedition experience is definitely necessary. Please call or email if you have any questions about the suitability of this trip and the Aconcagua extension for yourself.
Outline Itinerary

Days 1-2
Flight to Mendoza.
Days 3-5
Acclimatisation camp.
Days 6
Rest and hotel in a nearby town.
Days 7-9
Approach trek to the unclimbed peak.
Days 10-11
Unclimbed pe

ak

c.5800-6000m.
Day 12
Rest and hotel in a nearby town.
Days 13-14
Nearby 6000m peak ascent.
Day 15
Leave th

e mountains and return to Mendoza.

Days 16-17
Fly home.
OPTIONAL EXTENSION to ACONCAGUA
Day 16
Rest day in Mendoza.
Days 17-18
Trek to base camp.
Days 19-24
Climb Aconcagua.
Day 25
Trek out.
Days 26-27
Return to Mendoza and fly home.
FIRST ASCENT - FURTHER INFORMATION SHEET
A few months before departure we will post a further information sheet to all paid up clients. This information sheet will have a few more details of the peak(s) we are planning to climb and the overall itinerary. Clearly we don't want this information to be widely available at an early date as there would then be a risk of someone else climbing "our" unclimbed peak(s) first! Please phone the office if you'd like to discuss the nature of the peaks we plan to climb, or the trip in general, or just want some more clues about what will be involved before booking.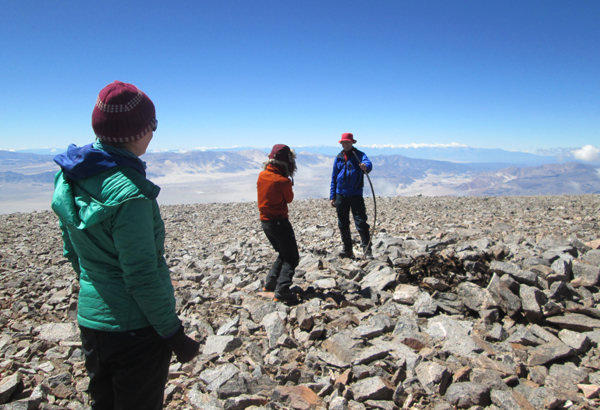 Pictured Above:- On the summit of Laguna Blanca Sur, 5900m, 2016 ANDES "First Ascents" expedition. This peak proved not to be a first ascent because the Incas had been there first.... you can just make out a wall and a pile of firewood in the centre right. This expedition went on to make a (probable) first ascent of the highest peak of Laguna Blanca, at 6012m. It appears the couple who made the first claimed ascent of Laguna Blanca in 2006 may in fact have only ascended the southern summit of the main peak! We're still trying to resolve what became a very complex situation, but not through lawyers!!
6000m ASCENT
Following a brief overnight rest at our hotel back in the local town we'll head back to the mountains for a 6000m peak ascent. This will be the highest peak we'll climb on the main expedition. We've chosen a peak of about 6200m height that is very near a road end, and will take just two days to climb, with a high camp at about 4800m. It's another easy ascent, starting up a valley and then on summit day up a broad easy angled glacier. If the snow conditions are good we'll be using an ice-axe and crampons on this. This mountain was in fact first climbed on an ANDES trip led by John Biggar, although that was now many years ago!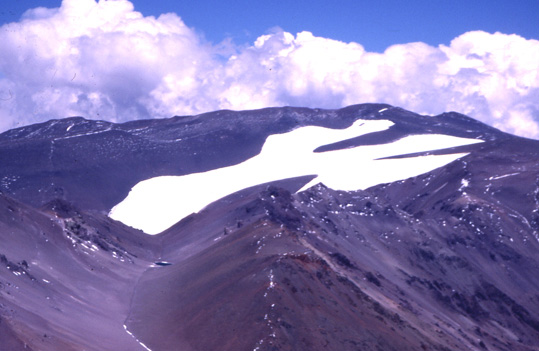 Typical high mountain terrain in the area.
---
We are offering an optional extension with this expedition to climb Aconcagua. At 6959m Aconcagua is the highest peak in the Andes and the whole of the Americas. It lies near border with Chile but the mountain itself is entirely in Argentina. Before travelling to Aconcagua we'll have a rest day back in the city of Mendoza. This extension will be a further nine day mountain trip after the rest day, and gives a 27 day itinerary overall, running from 19th January to 14th February. The cost for this extension is £1295, plus estimated additional hotel, trek and travel costs of £600, and permit cost of about £500 per person (2016-17 prices). We'll take a maximum of three clients on this extension. The price of £1295 is based on three fully-paid clients; at the time of writing we have just one space remaining.
Aconcagua is mainly a walking peak, with the summit being one extremely long day from a high camp at 5900m. However we prefer that clients think of it as an easy walking peak for experienced mountaineers. The frequent bad weather, constant cold and extreme altitude make this one of the toughest peaks in the Andes.
This trip will be guided by John Biggar (barring exceptional circumstances). John has summitted Aconcagua 8 times. Out of 32 clients who got to base camp he has reached the summit with 18. Five of those who did not summit with John were on one single 1998 expedition where the weather was so bad that other groups on the mountain were left with frostbite injuries. Another three who did not summit were on our January 2016 trip when conditions were equally bad, and no-one on the mountain got higher than about 5000m. John's overall 55% success rate contrasts with the average success rate on the mountain, which is about 20%.
There is more general information and photos of Aconcagua in our standard dossier for the mountain, here.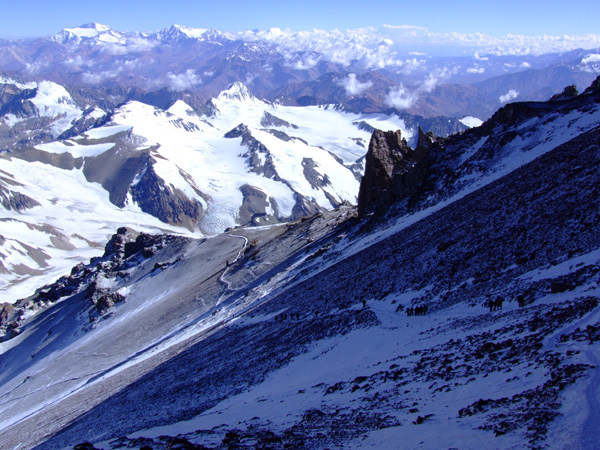 Looking down the lower half of the canaleta in very cold conditions, January 2008.
WARNING
Aconcagua is a popular choice as a first 6000m expedition, or the "next step" after Kilimanjaro. However it can be a tough trip if you have not climbed in the Andes or Himalayas before. Although the ascent is just a "walk" for experienced mountaineers, every year we see less experienced clients or other groups on the peak struggle with the combination of difficult terrain, seriously cold conditions and the extreme altitude. Aconcagua is physically and psychologically the toughest expedition we run because of the frequent bad weather and the extended period of wilderness camping.
Before booking on this Aconcagua extension we recommend that you have experience of at least three of the following four items:-
1. Previous ascent to over 6000m
2. Recent experience of extended wilderness camping and/or camping in cold winter conditions.
3. Recent backpacking experience.
4. Good skills walking on scree and loose ground.
If you have none of these previous experiences you are very unlikely to make it to the summit and you should not book any Aconcagua trip until you gain more experience. Our expeditions are no more demanding than others, Aconcagua is just a very tough mountain.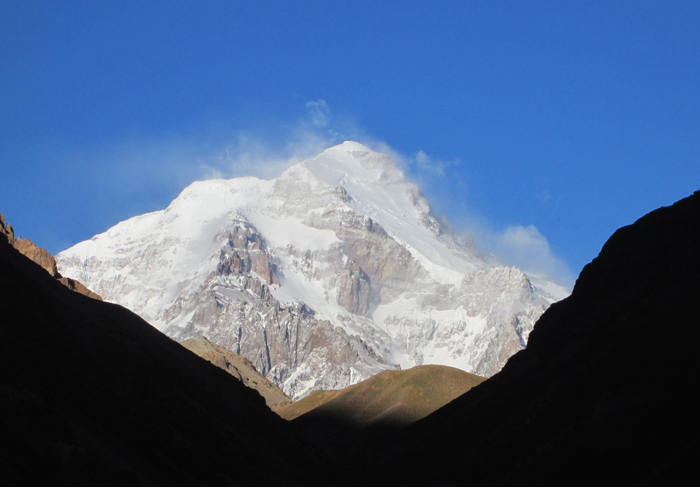 Aconcagua in cold and stormy conditions, January 2016.
---
FITNESS & EXPERIENCE NEEDED
Although there is no difficult climbing involved in the ascents planned on the main expedition, climbing to heights of around 6000m is still a serious matter because of the lack of oxygen at high altitude. We will allow plenty of time for expedition members to acclimatise to the altitude but because of the nature of the expedition we recommend clients to have previous successful experience at altitudes of 5000m+.

For this expedition good mountain fitness for long days is important, but for high altitude expeditions clients also need good cardiopulmonary (heart and lung) fitness. This can only be maintained, by a program of intensive exercise such as sprinting (not jogging), squash or sprint cycling. This should be done in small doses (e.g. half an hour every other day) over a period of at least two months
Clients should be prepared for cold nights camping and be prepared for very windy and dusty weather at times out in the mountains. As we'll be several days from the nearest supermarket there will be some tinned and dehydrated food in our diet during our time in the mountains. All clients are expected to help with the routine work of this type of expedition; pitching tents, cooking and washing up. Above base camp in the mountains we will be unsupported and therefore will have to carry expedition weight (20kg) rucksacks uphill for a half-day or so to establish high camps on the mountains, so some recent experience of backpacking is essential.
CLIMATE
The climate at altitude in Argentina is very cold and extremely dry. In the mountains temperatures can fall to -10ºC at night. During the day in the mountains it can feel very warm in the strong sun, but it can also be bitterly cold and windy. It will probably be dry all the time we are in South America, although there is a chance of an occasional thunderstorm and/or a snow flurry in the mountains. Strong winds, often up to gale force, are common. These kind of winds occur frequently higher on Aconcagua, but are possible everywhere. Temperatures in the city of Mendoza and in other low lying areas will be a very pleasant 30-35ºC during the day.
ORGANISATION & LEADERSHIP
Our expeditions are designed to be small and flexible. The expedition will be co-ordinated, organised and lead by us, but we will consult and involve the expedition members when planning the details of the trip. Please note however that the leaders decision is final where the safety of the group or any member is in jeopardy; for example where retreat or diversion is necessary due to illness or bad weather. The minimum number of customers we need to run this expedition is three. The maximum size of the main expedition will be four customers plus leader, with a maximum of three clients on the Aconcagua extension.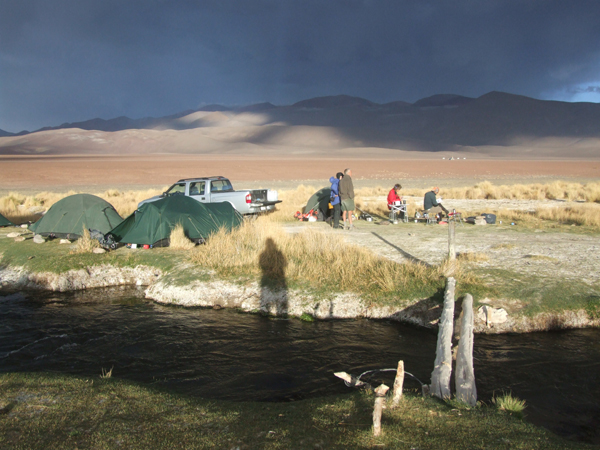 Acclimatisation camp at 3500m in northwest Argentina, November 2011. We saw a Puma near here the next day.
INSURANCE, HEALTH & SECURITY
All clients must be insured for medical costs and repatriation in an emergency. We recommend having insurance for baggage, personal liability and cancellation as well. If you would like advice on insurance please ask. Please bring an extra copy of your insurance certificate on the expedition for the leader. Vaccinations for tetanus, typhoid and polio are recommended. Argentina is one of the most well developed countries in South America and in rural areas crime rates are very low. The country is very safe and relaxing to travel in; theft and muggings are as unlikely as they are in most British cities.
SAFETY AND RISK
This is an adventurous mountain trip and all clients will be exposed to an element of risk by taking part in this itinerary. While we take all reasonable precautions to reduce risk it is neither possible nor desirable to completely eliminate these additional risks. It is important that you understand the risks involved before signing our booking form. We have identified the following areas as the principal additional risks of this itinerary. This is not a fully inclusive list - please ask if you would like to see a more detailed risk assessment of this itinerary before booking.
Driving, hotels and general safety : In Argentina driving standards, fire safety standards and general safety standards are not as high as in Europe.
Extreme remoteness : You will be camping in a remote area, up to two days walk from the nearest road, for an extended period of time. Therefore obtaining medical assistance for any problem will be a slow process.
Minor slips and falls : due to steep, uneven and unstable ground.
Weather : These mountains are occasionally affected by severe and sometimes dangerous thunderstorms and occasional unseasonal heavy snowfalls. High winds are common and storm force winds at altitude can endanger life. Forecasts are not so reliable.
Altitude : At high altitudes there is an increased risk of medical problems, most obviously altitude illness.
Mountain Hazards : In certain places you may be subjected to a slight risk of slips and trips.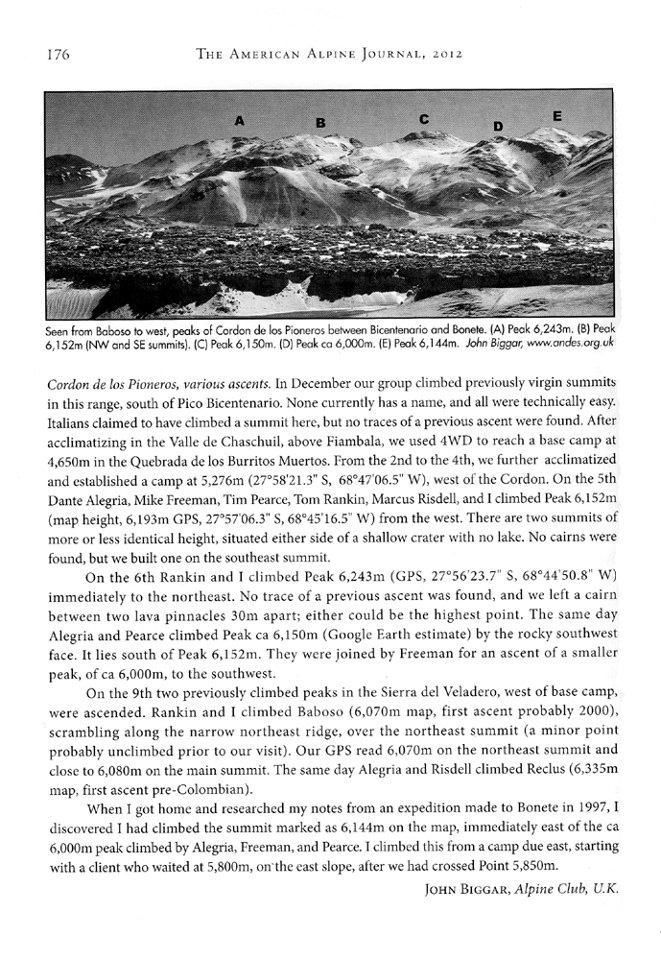 Extract from the American Alpine Journal 2012, detailing our extremely successful November 2011 "First Ascents" expedition to the Puna de Atacama in Argentina.